Greek traditions entice guests to annual festival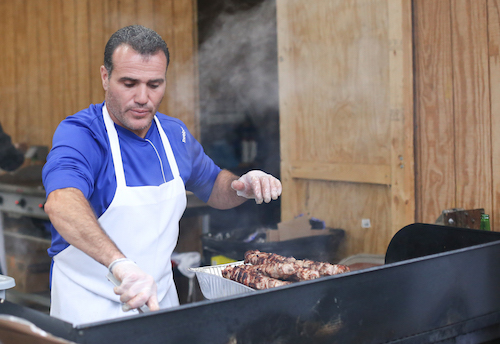 ---
CAMPBELL
Authentic Greek gyros, traditional dances performed by the "Island Kids," reuniting with old friends, gathering family and heart-stopping Greek-style baklava are among the enticing draws to this weekend's Archangel Michael Greek Wine and Food Fest.
The church festival at 401 12th St., which started Friday, continues from noon to 10 p.m. today and Monday.
Michael and Despina Mike III of Poland, who brought their 10-month-old son, Michael IV, to the festival, said they plan to raise their children in the Greek tradition.
"Tradition is a big part of the Greek community and of our lives," said Michael. Despina's parents are members of Archangel Michael.
Lenny DePinto of Liberty, who was sitting, nursing a beer, grew up on Youngstown's East Side and was a member of East High School's football and track teams, along with his brother. He comes to the festival to see friends and family from the Campbell area, and to pick up some baklava and a gyro for his wife, Marlene.
"I wanted to see the little kids dance. That's really great to watch," DePinto said.
For Archangel Michael members Christine Gaetano of Poland and Bill Likouris of Campbell, cochairmen of this and the church's other annual festival in February before Lent, the events are labors of love.
Gaetano, who is originally from Campbell, has been involved in the church activities since it was built in 1955, including being its choir director for 50 years and a long-time president of the Ladies' Guild.
Likouris, chef and caterer for the festival and past president of the parish council, is well-known for his authentic Greek sliced pork gyro made from a recipe brought from Greece.
"Our goal is to get young people to come to church and raise money. The churches cannot survive with the income from festivals," said Likouris.
The festival is an opportunity for the parish to open its hospitality and tradition to the Campbell and greater Youngstown communities, said the Rev. Steve Denas, just the third priest at Archangel Michael in its existence.
It is also a chance to share Greek culinary delicacies, said Father Denas, who admits his favorites are desserts such as bougatsa, a Greek breakfast pastry; filo, thin unleavened dough used for making pastries such as baklava; and farina, a form of milled wheat used to prepare hot cereal for breakfast.
Besides desserts, the menu also includes Greek-style baked chicken and lamb dinners, salads and fries and many other items.
More like this from vindy.com