Butler exhibition will raise awareness of endangered gorillas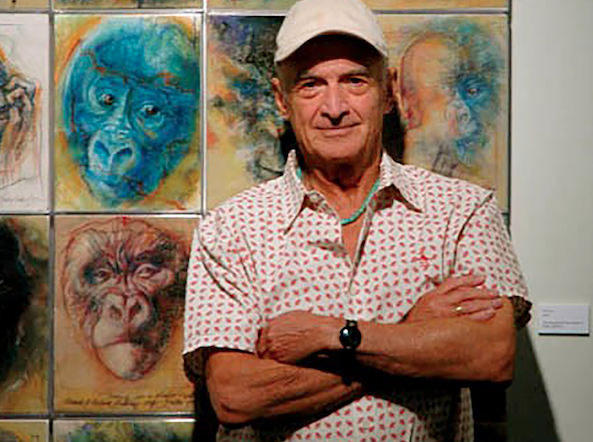 ---
Staff report
YOUNGSTOWN
An exhibition of paintings, "Twilight of the Gorilla," by Bob Ziering, designed to raise awareness of the plight of the mountain gorilla, will open next Sunday at the Butler Institute of American Art and run through Nov. 19.
The artist will greet the public at an opening-day reception from 1 to 3 p.m. at the museum, 524 Wick Ave.
The Butler is open Tuesdays through Saturdays from 11 a.m. to 4 p.m., and Sundays from noon to 4 p.m. Admission is free.
"Twilight of the Gorilla" is a series of large, personal and compelling pastel paintings that conjure respect for the subject. It challenges viewers to reflect on the human-primate parallel and encourages them to face the endangerment of these majestic animals and their natural habitats.
The exhibition reveals the artist's sensitivity toward these animals but the work also asks the viewer to look at these subjects as visually fascinating creatures.
"Ziering employs an expressionistic approach, emphasizing both line and textural qualities in the work," said Louis Zona, director of the Butler. "The artist has created a body of work which is important on many levels. Let's hope that his artistic journey reveals much."
A native New Yorker, Ziering studied art at the High School of Music and Art in that city, then completed his bachelor's degree at New York University.
He enlisted in the U.S. Air Force, where he reached the rank of lieutenant and served as a basic-training instructor. He acted as base artist, illustrating training aids and books, and was commissioned to do a series of portraits of senior officers. Upon completing his military service he studied graphic design and illustration at the School of Visual Arts.
For more than 40 years, Ziering has enjoyed a career as both an agent and artist. His work is seen in print ads and video productions for many Fortune 500 companies, as well as in cultural institutions such as the Metropolitan Opera and Cirque du Soleil. He has earned several ANDY awards for his work, the highest honor awarded to commercial illustrators. Ziering is also a founding member of the Graphic Artist's Guild and is a member of the Pastel Society of America.
He has taught illustration and commercial art in New York at the School of Visual Arts, the Fashion Institute of Technology and Pratt Institute and worked as a volunteer in the forensic anthropology department at the American Museum of Natural History, where he assisted in the reconstructions of pre-homo sapiens for an exhibition.
His "Twilight of the Gorilla" exhibition was first shown in New York at The Central Park Zoo in 1994. In 1999, it was exhibited in Chicago at the Lincoln Park Zoo.
More like this from vindy.com