SENIOR SALUTE — BAND EDITION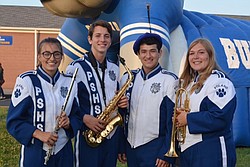 Photo
Neighbors | Submitted.Pictured are, from left, Camryn Cherry, Noah Landry, Mark Pompeo and Paige Kellgren.
Name: Camryn Cherry, President; Noah Landry, Senior Representative; Mark Pompeo, Senior Representative; Paige Kellgren, Vice-President
Instrument: Flute; Alto Saxophone; Tuba; Trumpet
Q. Why is music important to you?
A. Cherry: I've always loved music since I was a little kid. That's why I love band so much.
Landry: Music is important to me because it allows me to express myself in a way nothing else does.
Pompeo: Music helps me stay connected with my friends and others.
Kellgren: Music is important to me because it is what I love to do and music opens the doors to a world indescribable to those not listening.
Q. What is your favorite marching band piece of your career?
A. Cheery: "Bohemian Rhapsody."
Landry: "White Rabbit."
Pompeo: "Sing."
Kellgren: "80's Medley."
Q. What are your future plans?
A. Cherry: I plan on majoring in journalism and communications at Kent State.
Landry: I hope to either attend Carnegie Mellon University or Point Park University with a major in musical theatre.
Pompeo: I hope to attend YSU but I am undecided about a major.
Kellgren: I plan on attending YSU in the 2018 fall for music education.
More like this from vindy.com