Lemonade stand raises money for families in need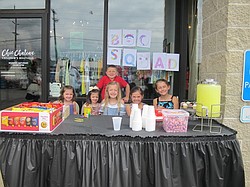 Photo
Neighbors | Alexis Bartolomucci.Children from the Boo Squad set up a lemonade stand at the Chic Chateau to help raise money for families in need.
By ALEXIS BARTOLOMUCCI
Children ages 3-10 years-old are learning what it takes to be a helpful member of the community by participating in the Boo Squad.
The Boo Squad is a volunteer group for children to join to help out their community. The children participate in various things to teach them about differences. Children in Boo Squad host fundraisers throughout the year to raise money to help those in need.
On July 15, the Boo Squad hosted their second lemonade stand of the summer at the Chic Chateau in Boardman to raise money for school supplies for two local families in need. The children sold lemonade, chips and candy to earn money. The lemonade stand was organized by Katina Stamos.
"We like to pick out an environment or population that the children may not typically be exposed to on a normal, everyday basis to teach them about volunteering and compassion and being understanding of people with differences," said Heather Hrina Medvec.
There are around 20 members in the Boo Squad and they took turns working the lemonade stand throughout the afternoon. The children enjoy serving the lemonade and collecting donations from those who purchase.
Before the lemonade stand, the Boo Squad hosted an Obstacle Challenge to give the proceeds to Go Baby Go! The obstacles consisted of arm crawls, tunnel runs, wall climbs and more.
The Boo Squad helps places like the Beatitude House, Making Kids Count, The Golden String and others. The children get excited when they have the opportunity to deliver the items they gathered and see the look of surprise and thankfulness the recipients have on their faces.
More like this from vindy.com