Discussion and laughs had at Boardman library's book club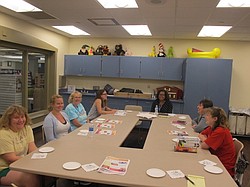 Photo
Neighbors | Zack Shively .Boardman library's I Read YA! book club met in the library's small meeting room on Aug. 21. The group discussed "Bone Gap" by Laura Ruby this month.
by ZACK SHIVELY
Boardman library's young adult book club met in the small meeting room in the library on Aug. 21.
The ages of people in the group varied despite focusing on young adult books. The club meets once a month to discuss that month's book. Every member of the club offer their own thoughts and experiences to the discussion. Librarian Selena Phillips brings snacks to each meetings and leads discussion. She said that they have to keep the door shut because they often talk and laugh loudly.
The club discussed Laura Ruby's "Bone Gap." Phillips opened the discussion on whether or not the group liked it, which was quickly answered with someone saying it was one of the worst books she ever read. That sentiment seemed to be shared by the majority of club. They furthered discussion into things they did not like about the book, like the use of magical realism, and things they did like about the story, such as the novel having a character that suffers from face blindness. Phillips also posed different discussion questions. She made note that the book received good reviews and won the 2016 Printz Award given to exceptional young adult novels.
The club meets the third Monday of every month. The meeting on Aug. 21 had eight members present, but they normally have around twelve and are open for more. The next meeting will be held on Sept. 18 and focus on "The Hate U Give" by Angie Thomas.
More like this from vindy.com