Canfield's Boy Scout Troop 25 to host open house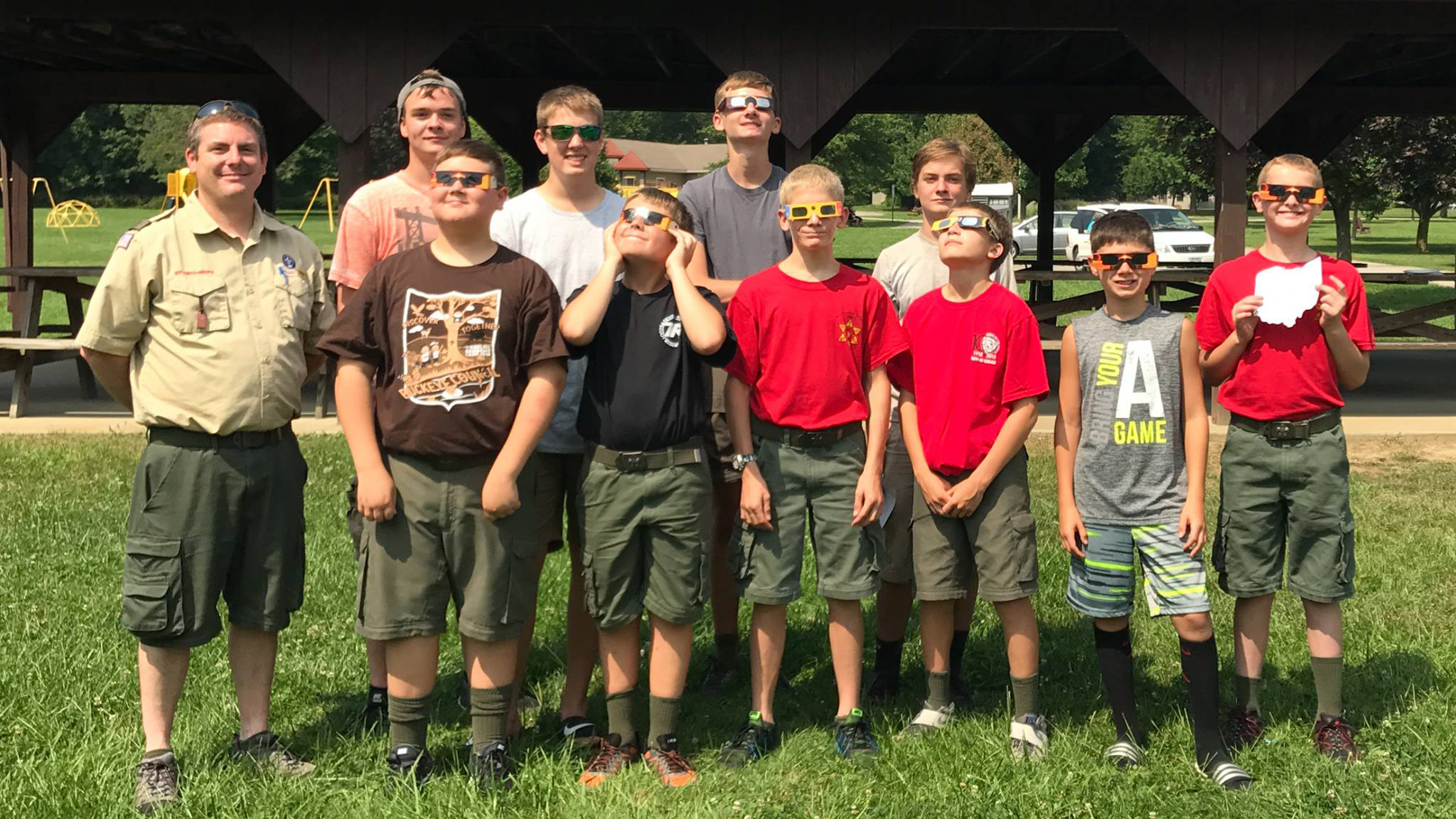 ---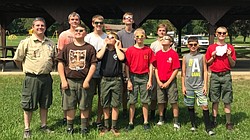 Photo
Neighbors | Submitted.Attending Canfield's Boy Scout Troop 25 solar eclipse viewing event were, from left, (front) Bill Rich, Andrew Hamilton, Wesley Rich, Noah Christoff, Christopher Altiere, Owen DiRenzo, Cade Henry; (back) Luke Bowser, Jacob Kuszaj, Josh Farley and Owen Bowser. Not pictured, but participating with his family at the beach in the total eclipse zone in South Carolina, was Albert Pecella. The event at Fair Park in Canfield included the Scouts learning about why and how the solar eclipse occurs and completing the requirements to earn the solar eclipse patch.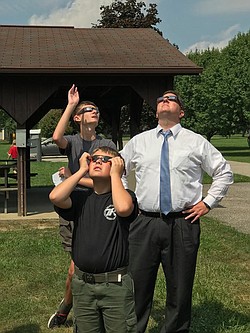 Photo
Neighbors | Submitted.Canfield's Boy Scout Troop 25 had a solar eclipse viewing event on Aug. 21 at Fair Park. Pictured viewing the eclipse are, from left, (front) Wesley Rich; (back) Josh Farley and Jason Farley
Canfield's Boy Scout Troop 25 is hosting an open house on Sept. 13 from 7–9 p.m. in the basement of Canfield United Methodist Church, located at 27 S. Broad St. in Canfield.
Parents and boys who meet the age requirements are welcome to come anytime during the open house to meet the Scouts and leaders and learn more about the Scouting program. Interested boys are welcomed from anywhere in the surrounding community, not only this night but any Wednesday throughout the year. Light refreshments will be served.
The Boy Scouts of America provides a program for young people that builds character, instills reverence, trains them in the responsibilities of participating citizenship and develops overall personal fitness.
Since 1926, Troop 25 has combined these developmental aims with experiences of outdoor camping and good clean fun. Through the outreach of Scouting, young boys are growing up to become more conscientious, responsible and productive members of society. Throughout the course of its history, Troop 25 has had more than 170 young men earn Scouting's Highest Rank —Ä—Ä Eagle Scout.
Boy Scouting provides a series of surmountable obstacles and steps in overcoming them through the advancement method. The Boy Scout plans his advancement and progresses at his own pace as he meets each challenge. The Boy Scout is rewarded for each achievement, which helps him gain self-confidence. The steps in the advancement system help a Boy Scout grow in self-reliance and in the ability to help others.
Part of the advancement program includes merit badges. With more than 135 merit badges, a Scout can learn about sports, crafts, science, trades, business and future careers as they earn merit badges. It is an uncomplicated process that gives a Scout the confidence achieved through overcoming obstacles. Social skills improve. Self-reliance develops. Examples are set and followed. And fields of study and interest are explored beyond the limits of the school classroom.
To join a Boy Scout Troop, a boy must be 11-years-old, or one who has completed the fifth grade or earned the Arrow of Light Award and is at least 10-years-old, but is not yet 18-years-old. A boy does not need to have been a Cub Scout to join a Boy Scout Troop,
This past summer, the Troop participated in Summer Camp, went swimming on several occasions, hosted a Solar Eclipse event at Fair Park in Canfield and attended the D-Day Conneaut Reenactment. Troop 25's 2017-2018 calendar includes a Put-In-Bay Campout, the Canfield UMC Corn Roast and assisting Second Harvest Food Bank in September; a hike or canoe trip in October; Junior Leader Training in November; the Troop annual Christmas Party in December; the Whispering Pines district Klondike Derby in January; Scout Sunday and annual Troop Breakfast in February; Advancement Camp in March, participation in the Mill Creek MetroParks Earth Day Cleanup and a camping weekend for BTM Clays in April, hiking and the Canfield Memorial Day Parade in May, Wright Patterson Air Force Base trip in June, the Canfield Fourth of July Parade and Summer Camp in July at Seven Ranges Scout Reservation in Kensington, Ohio.
Troop 25 meets every Wednesday evening at 7 p.m. in the basement of Canfield United Methodist Church.
For more information about the troop and its activities, contact the Scoutmaster, Kevin Prus, Sr. at 330-533-5616.
More like this from vindy.com