4-Hers donate auction proceeds to new complex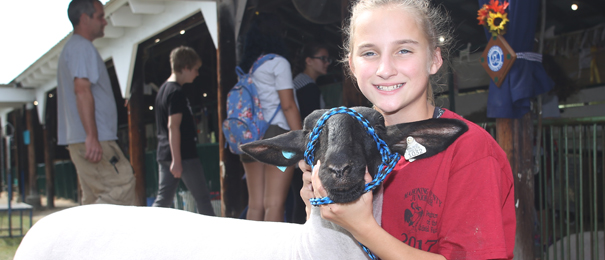 ---
By Kalea Hall
CANFIELD
It's getting a little cramped in the 4-H area of the Canfield Fairgrounds.
That's why members of 4-H are helping raise money for the fair's capital campaign to build a $4.5-million Junior Fair complex.
"It shows that [the complex] is needed and wanted," said Ward Campbell, fair board director who oversees Junior Fair.
Abby Gay, 14, of Berlin Center, and Will Bacho IV, 14, of Poland decided they want to see the complex built, so they donated the proceeds they made in Thursday's Junior Fair auction to the fair board for the new complex.
Abby donated the proceeds from the sale of her 142-pound lamb named Jay. Sarchione Chevrolet of Randolph paid $3.25 per pound for Jay for a total price of $461.50
Will also gave the proceeds from the sale of his 264-pound hog named Speed Bump. Cornerstone Electric of Salem paid $3.25 per pound for the hog for a total price of $858.
"It's going to a good cause, and it benefits a lot of people including myself," Will said.
Over the past few years, the number of Junior Fair participants has increased. Today, there are between 800 and 1,200 involved in Junior Fair. Junior Fair includes all 4-H clubs.
With the increase, came the need for more room.
In March, the fair board announced the $4.5-million capital campaign to build a show arena/event center, ancillary buildings and barns. Thus far, more than $2 million has been raised. The goal is to have it built and ready for next year's fair.
The new buildings will be located where the antique tractors, Old McDonald's Barn and open sheep and goat barns currently are in the fairground's southeast section.
Those fair features will be relocated to where the Junior Fair is in the northeast section.
The move will bring all Junior Fair participants closer together. The dairy and beef breeders in Junior Fair already were relocated to the southeast end because of the loss of space at the northeast end.
Both Abby and Will, and their parents, could go on and on about what being a Junior Fair member has taught them.
"It's taught her time management, hard work, dedication, responsibility," said Roxanna Gay, Abby's mom. "It's a huge responsibility."
Both Abby and Will have been 4-Hers the past five years. Abby brings in the lambs she raises, and Will brings in the hogs, turkeys, broilers, or meat chickens, and egg layers, or hens, he raises.
"They get up and take care of their animals before they go to school," said Kathy Bacho, Will's mom. "They put something else in front of themselves."
At the end, they get rewarded with the money they receive from the auction and also an experience that keeps them coming back.
"[The new complex] will benefit many kids in the future," Abby said.
More like this from vindy.com