DeWine unveils new plan to combat opioid crisis and demands drug companies pay for it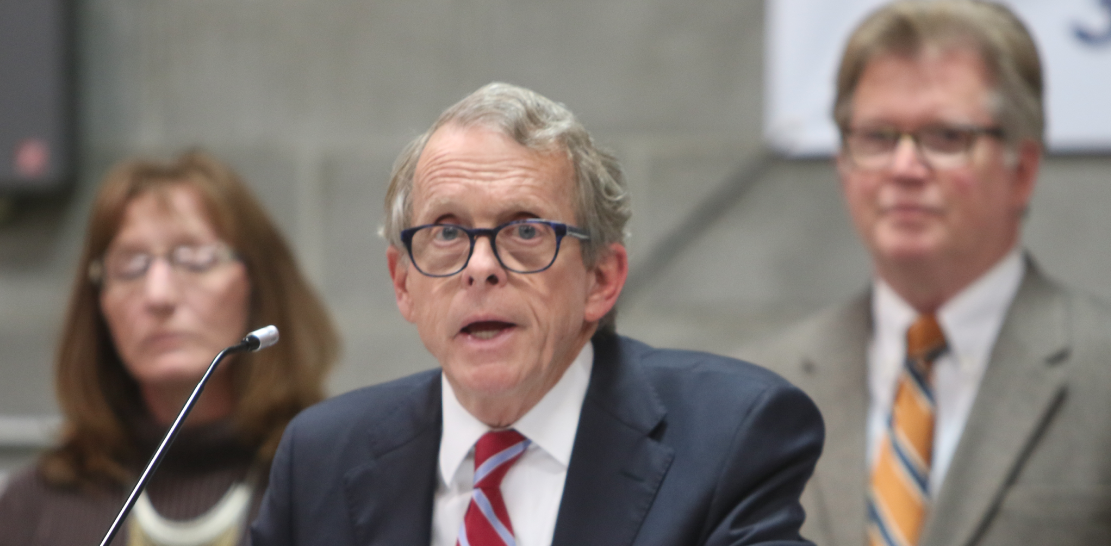 ---
BOARDMAN
Speaking from a Mahoning Valley business that has felt the impact of Ohio's opioid epidemic, Ohio Attorney General Mike DeWine announced Monday a plan to combat the opioid epidemic.
DeWine's "Recovery Ohio" plan features 12 proposals. Some, such as doubling substance-abuse treatment capacity in the state, are costly – but DeWine said he will do everything in his power to get pharmaceutical companies to foot the bill.
"I believe the people who should pay for this are the people who have caused a great deal of this tragedy, a great deal of this sorrow, and that is the drug companies," said DeWine, speaking from Roof Rite Inc., a roofing company on Velma Court.
He said he sent letters Monday to Purdue Pharma, Endo Health Solutions, Teva Pharmaceutical, Johnson & Johnson, and Allergan – the same companies against which he filed a lawsuit earlier this year over their role in the opioid epidemic.
He also sent letters to drug distributors Cardinal Health, McKesson, and Amerisource Bergen asking them to help pay for the costs of the opioid epidemic that kills 4,000 Ohioans per year. He gave them all a 30-day deadline to "begin serious discussions about paying their fair share."
Bill Cruciger, Roof Rite president/CEO, said the business has had difficulty hiring employees due to applicants' inability to pass drug tests. Over the last year, the company has partnered with Flying HIGH Inc., a Youngstown-based nonprofit organization that offers job readiness and placement assistance.
DeWine, a 2018 Republican gubernatorial candidate, said it's an issue about which he often hears.
"The No. 1 concern expressed to me by businessmen and women is, 'We have a difficult time hiring people,'" he said.
That issue is addressed in his plan, with a proposal to incentivize employers to hire people in recovery. DeWine proposes the Ohio Bureau of Workers' Compensation start a pilot program to encourage employers to hire applicants who have completed "appropriate treatment programming."
The program, as DeWine envisions it, would reimburse the employer part of the employee's wages, provide training to the employee and protect the company from any BWC rate increases if the employee were to relapse and cause a work-related accident.
Some of his other proposals include creating more specialized drug courts and doubling substance-abuse treatment capacity, possibly by better using Ohio hospitals' existing capacity or driving more money to local mental health and recovery boards to pay for treatment.
DeWine said his recovery plan is based on previous initiatives that have been successful. The drug epidemic's evolution from prescription painkillers to heroin, and now to powerful synthetic opioids such as fentanyl, however, necessitates new strategies.
Also at the news conference, DeWine praised President Donald Trump's response to the opioid epidemic.
"I applaud President Trump for his declaration last week of a national health emergency," he said. "He gets it. He gets that this is a real national emergency."
DeWine would not say what his response will be if the companies to which he sent letters do not respond to his 30-day deadline.
"They can wait and think about it. But I will escalate. I will escalate until I get their attention," he said.
More like this from vindy.com