YSU's 972 penguins waddle into world history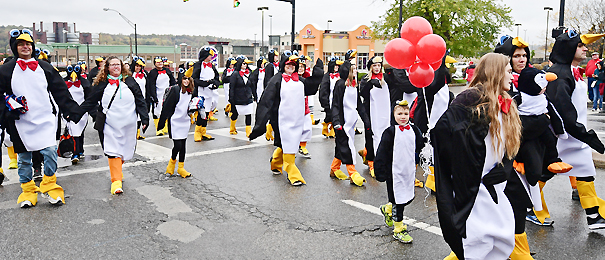 ---
By AMANDA TONOLI
atonoli@vindy.com
YOUNGSTOWN
YSU Homecoming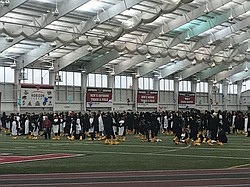 Video
Youngstown State University unofficially broke the Guinness World Record for the largest gathering of people dressed as penguins!
YSU Penquins and Homecoming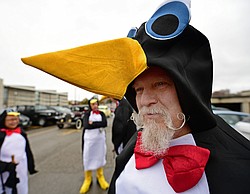 Gallery
YSU Penquins and Homecoming
Nearly 1,000 students, alumni and community members at Youngstown State University broke the Guinness World Record for the largest gathering of people dressed as penguins Saturday in the Watson and Tressel Training Site.
The event, which celebrated YSU's 50th anniversary as a state university, aimed to unite students, alumni, employees and everyone in the Greater Youngstown community.
YSU achieved its goal with 972 penguins waddling around the WATTS Center.
After the official count, the Penguins marched up Fifth Avenue in the annual YSU Homecoming Parade.
"It's definitely exciting to be a part of something never done before," said Kayla Theisler, mechanical engineering student.
Rebecca Potkanowicz, university Woo Crew member, Student Activities Association employee and YSU student, said she could hardly contain her excitement when penguins were lining up to be counted.
"This is one of the best things I've ever done and to top it off it's the end of my senior year," she said.
Pui Chan, fellow mechanical engineering student, said events like this record-breaking one make him sad to be in his last year at YSU.
"It just makes me always happy to be a 'guin," agreed student Joey Hays.
Potkanowicz reported more than half of the penguins were alumni.
"I just can't believe so many members of the community came out," she said. "Honestly, we're just going to keep expanding this group of alumni with everyone's future children coming to this great university we call YSU."
"I'm just so proud everyone came here to break the world record together," said university President Jim Tressel.
Eddie Howard, university Student Affairs associate vice president, echoed Tressel's sentiment.
"It's just amazing to be here," he said.
The former record was achieved by Richard House Children's Hospice (UK) at The Scoop, More London, London, United Kingdom, for Guinness World Records Day, Nov. 12, 2015, with 624 penguins.
The England hospice achieved the record, beating its own previously set record three times before YSU's achievement, according to the guinnessworldrecords.com.
More like this from vindy.com