Mooney clinches playoff spot, edges Fitch by a TD
Fitch Mooney Football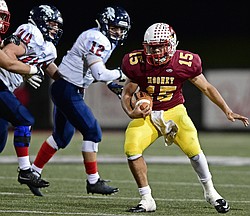 Gallery
YOUNGSTOWN
Cardinal Mooney clinched a playoff spot with two second quarter touchdowns to beat Austintown Fitch, 14-7.
With the help of fumble recoveries by Danny Simko and Brent Weaver, Mooney got its rhythm and established severe ball control to outgain Fitch on the ground, 259-107.
The Stambaugh Stadium turf seemed to have haunted hash marks as both teams combined for 15 penalties that totaled 166 yards.
Friday night's game represented the second straight season during which a Week 10 Mooney-Fitch showdown resulted in the Cardinals prevailing with the postseason on the line.
Last year, Mooney beat Fitch, 7-0, in the regular-season finale to vault into the playoffs.
This season's Week 10 was similar.
Photo Gallery: Fitch Mooney Football
"It looks that way, but we'll see how it plays out," Mooney coach P.J. Fecko said of the playoff picture following Friday's win. "Our guys played a really grueling schedule this season and battled through it and got better each week. They definitely put themselves in position to earn a playoff spot and we'll have to go back to work and see who we're playing and where we're playing. The important part is worrying about yourself — your own team — and figuring out how to get better for the next week."
Six minutes into the game, Fitch took a 7-0 lead on Joey Zielinski's 75-yard TD jaunt, followed by Dylan Correia's PAT.
Mooney then scored all of its points in the second quarter on a pair of 1-yard runs by quarterback Antonio Page and Andrew Philibin's extra-point kicks.
Mooney was sweating out its opportunity to snap a 7-7 tie after Andre McCoy gave the Cardinals first-and-goal at Fitch's 2-yard line because it took four tries before Antonio Page punch in the score.
"I saw [the Fitch linemen] huddle up in the middle and I knew what it was because they called it out, then my blockers came down and sealed off the inside I just went to the outside [to the left] and got in."
Page had 90 yards on 24 carries behind McCoy's 139 yards on 22 carries.
"We were a little slow moving the ball up and down the field at first," Page said. "Then we started getting our blocking assignments and started blocking real well and Andre [McCoy} was running real hard and I was running real hard and we were trying to get as many yards as possible."
McCoy played tailback on offense and tackle on defense, along with Vinny Gentile; Danny Simko and Cheriff Jamison.
"Our guys up front did a great job all night and you feel each othere out in the first quarter and you hone in," Fecko said. "From that point, our offensive line was getting a great push and moving the ball up and down the field and we were fortunate enough to get 14 on the board. Then, we were stopping ourselves with penalties. Defensively, our guys played well."
Weaver's fumble recovery set up Mooney's go-ahead TD before halftime. As Fitch mounted a few threats in the final 12 points, Chris Gruber's interception in the end zone with seven minutes left snuffed out a potential six points by Fitch and defensive stops by Vinny Gentile and Simko, along with a Luke Fulton's sack of Zielinski in the final minutes, was the death knell for the Falcons..
"They outplayed us tonight, and had a size advantage up front and were more physical up front. We were just a little bit short," Fitch coach Phil Annarella said. "To their credit, the pressure was on them to make the playoffs — we weren't going to get in, not that that's a difference — but I was hoping that they might feel a little more pressure [than us], so we could play a little looser. I think the kids wanted to win the game so badly that, in the first half, we had some dumb mistakes [fumbles and penalties] that should have never happened. Those were a lot of self-inflicted wounds in the first half."
More like this from vindy.com