Liberty upsets unbeaten Girard
Girard Liberty Football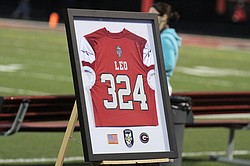 Gallery
A moment of silence for slain Girard PD officer Justin Leo was observed before the start of the Girard Liberty football game.
Dra Rushton's 3 TDs clinch postseason berth
By ERIC FORTUNE
GIRARD
It was simple, win and get in.
Liberty needed to beat undefeated Girard to make it to Week 11 and the Leopards delivered the 41-28 upset, winning the AAC Blue Tier title in the process.
"We just did what we're supposed to do," Liberty coach Chet Allen said. "They got double teams. They saw what they needed to see. They dug deep and fought their butts off. That's what the rivalry game is all about. Either you're beating them or getting beat. These kids fought their butts off for eight weeks in a row. That's amazing."
Photo Gallery: Girard Liberty Football
The Leopards (8-2, 6-0) were paced by quarterback Dra Rushton who ran for 89 yards and passed for 104 with three touchdowns as the Liberty offensive line controlled everything up front finishing with 450 total yards — 314 coming in the decisive second half.
"Before the game, they were so pumped up," Rushton said of the Leopards' o-line. "Those guys are never like that. They were so pumped up for this week. They just said 'keep running the football behind us Dra.'
"I'm excited to get to week 11. It's real exciting. It's a little emotional. Just to come out here and finally do it."
After the Indians (9-1, 5-1) jumped out to a quick 14-0 lead less than four minutes into the game, Liberty responded with a four play, 55 yard drive to make it 14-6 after a 31 yard run from Quaishon Campbell.
"We didn't get down," Allen said. "We've been in these games before. These guys didn't have an opportunity to get beat. They were always jumping out on people big. We just stayed the course. We didn't lose our head. We kept fighting and it paid off."
Liberty's ensuing drive after forcing a Girard punt stalled at the Indians' 12. The Indians though went backwards and were hit with a safety after Mark Waid was called for intentional grounding in the endzone.
Five plays later, the Leopards Brian Maddox scored from three yards out to give the Leopards a 15-14 lead — a lead that never relinquished.
After forcing a Liberty punt, Girard marched 62 yards to the Liberty one with under a minute left in the half. Facing fourth down and heavy pressure, Waid's shovel pass was intercepted by Maddox, who returned it 96 yards to the Indians' four.
Rushton took it in from a yard out to make it 21-14 at the half.
The Leopards scored on their first two drives of the second half to make it 35-14 with 6:39 left in the third on a 17 yard pass from Rushton to Haywood and an eight yard run from Rushton.
By this time, the Indians imploded with costly penalties, dropped balls, and an ejected player. Girard finished with 168 yards in penalties. A member of Girard's chain gang was also ejected for arguing with an official.
Girard cut the Liberty lead to 14 after 44 yard pass from Waid to Nick Malito with 3:01 left in the quarter, but again were turned away on their next drive when Tobias Brantley intercepted Waid in the endzone with nine minutes left in regulation.
Waid finished with 325 yard passing and 114 on the ground.
Liberty put the final dagger in on Capone Haywood's 64 yard run that made it 41-21 with 7:03 left.
"Football is an emotional game, a game of swings," Girard coach Pat Pearson said. "We were up 14 and almost got the ball and made it 21. We've done that in a lot of games. Credit to Liberty. They fired back. It was really an up tempo back-and-forth game. There is seven minutes left and we're at the goal line. If we score there, it's a seven point game. It was a heck of a ball game. We just came up on the short end tonight."
More like this from vindy.com