Undefeated Canfield romps over Poland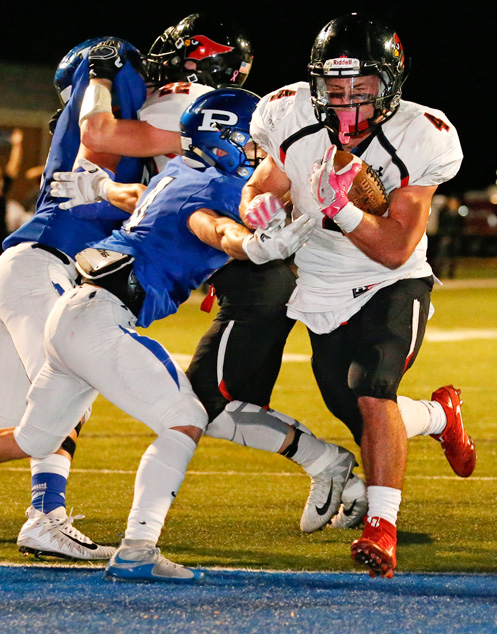 ---
Poland Canfield Football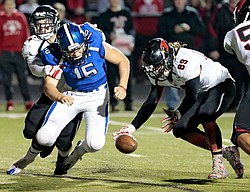 Gallery
Undefeated Canfield romps over Poland
By BOB ETTINGER
POLAND
The Canfield High School football team was looking at the big picture entering the Battle of 224 at Poland's Dave Pavlansky Field on Friday night.
Certainly beating the rival Bulldogs was important, but there was more on the line than bragging rights.
Photo Gallery: Poland Canfield Football
With a 38-0 victory, the Cardinals laid claim to the All-American Conference Red Tier championship, completed a perfect regular season and locked up the top seed in the Division III Region 9 playoffs to go along with a third straight victory over Poland.
"It meant we won a league title," Canfield coach Mike Pavlansky said. "That's all it means. We won a league title. We finished undefeated for the regular season. There's no winning streaks involved in anything like that because we respect them tremendously and every year anything can happen."
Despite checking all of the aforementioned boxes on the goal sheet, Canfield (10-0, 4-0) is taking nothing for granted as the postseason kicks off.
"It's a new season," Pavlansky said. "We've gone into Week 11 and haven't been successful in Week 10. It's whole different season.
"We'll celebrate until Sunday afternoon and then Sunday afternoon we'll put it away. We'll have to get ready for whoever we play because they're going to be really, really good."
The Bulldogs (8-2, 3-1) are expected to have the fourth seed in Div. IV Region 13, which would earn them a hoime playoff game on Friday, The playoff pairings will be announced Sunday.
"Always find what you did wrong and try to fix it and hope that it doesn't happen again," Poland coach Ryan Williams said.
Vinny Fiorenza put the Cardinals on the board on their opening possession with a 29-yard touchdown run.
Paul Breinz intercepted on the Bulldogs' first possession and returned it 33 yards to the Poland 1. He completed the journey to the end zone with a touchdown on the next play to make it 14-0 with 5:31 to play in the first period.
"Tremendous play by Paul," Pavlansky said. "There's no doubt about that. It set up our second touchdown. That's why I talked about it being a complete team effort. The defense set up two scores. I'm proud of our guys. I can't say enough about them."
Breinz added a 4-yard scoring run with 28 seconds left in the first half to put Canfield up three touchdowns at the intermission.
"Obviously, it was a great performance all the way around for our guys," Pavlansky said. "That's the type of performance you need in a rivalry game. We saw some things on tape we liked and our guys executed at a high level. It was offense. It was defense. It was special teams. It was a complete ballgame for us. There's no doubt."
Sam Accordino kicked a 24-yard field goal after P.J. Hallof recovered a Poland fumble at the Bulldogs' 11. Fiorenza later scored from the 1 and it was 31-0 with 4:45 to play in the third period.
Nick Crawford put the exclamation point on the win with a 35-yard score to open the final quarter.
The Bulldogs had a rough go of getting much going on offense all night.
"Our defense has played at a high level all year long," Pavlansky said. "It's a really good defense. We're built on speed and that gave them some trouble."
"That's what good teams do," Williams said. "They're an outstanding tackling football team. They did a good job tackling."
More like this from vindy.com