AJWL host Northeast Ohio fall conference at Hollywood Gaming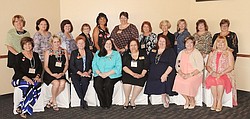 CONTRIBUTED PHOTO

Photo
Austintown Junior Women's League recently hosted the Northeast District Fall Conference at Hollywood Gaming at Mahoning Valley Race Course. Federation members met with GFWC state officers to share ideas on programs to benefit the citizens of Ohio. Recognition was given to individual clubs for volunteer efforts, and a brunch was served. More information on the AJWL can be found at www.facebook.com/AJWL2014. Above, members who attended the conference, seated from left, are Kathy Rusback, AJWL president; Yvonne Ford, GFWC Ohio secretary; Pam Vines, NED director of junior clubs; Lisa Hedrick, GFWC Ohio president; Mary Witkowski, NED president; Deidra Devore, GFWC Ohio director of junior clubs; Linda Crish, GFWC Ohio president-elect and Esther Gartland, GFWC Ohio director-elect of junior clubs. Standing, from left, are Marcia Denamen, Karma Minkewicz, Peggy Bennett, Shirley Schmidt, Ruty Rodriguez-Patterson, Dawn Blinsky, Sue Hovanec, Kathy Mock, Linda Jones, Marye Kay Erickson and Eileen Frost.
More like this from vindy.com
October 27, 2017 8:03 a.m.