For Rossi, Russo arrangements especially hard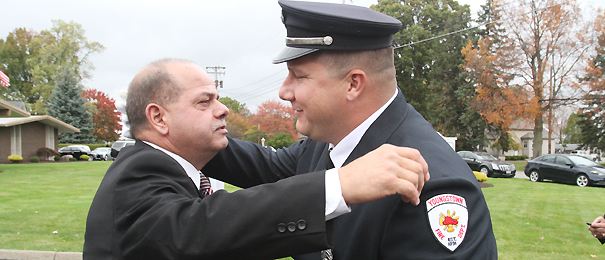 ---
By JOE GORMAN
jgorman@vindy.com
BOARDMAN
Lou Rossi has run a funeral home for almost as long as he was a city firefighter.
So when Rossi and his twin brother Joe had to prepare their former colleague Battalion Chief Ronald Russo for burial, it was not something that was normal.
Mourners filled the Rossi Bros. & Lellio Funeral Home on Wednesday for calling hours for Russo.
Lou Rossi said it was not easy to be handling the arrangements for Russo, who was a firefighter for 37 years before he was killed Friday in a motorcycle accident in Ashtabula County.
He said he and his brother are related to the Russos and have a lot in common, especially since Russo also has a twin brother – Richard Russo, who also retired as a city firefighter as did Joe and Lou Rossi.
Pausing to accept a hug from a mourner, Lou Rossi said the entire experience "stinks."
"It's like I'm burying my brother," Rossi said. "It's part of my extended family."
Firefighters, police officers and Mahoning County Sheriff's Office deputies were on hand, as well as firefighters from several departments across the region.
The fire department's honor guard kept watch over the coffin, and the sheriff's office honor guard also was present. Russo's brother Robert is a member of the sheriff's department.
Off-duty city firefighters were easy to spot because they were in their dress uniforms, while members who were on duty took turns attending and were easily noticeable by their everyday work attire.
Also on hand was Girard Mayor James Melfi, whose city had a police officer, Justin Leo, 31, killed in the line of duty Saturday. Leo's calling hours and funeral services are Saturday and Sunday, respectively.
Soon after the calling hours began at 3 p.m. Wednesday, there already was a line snaking out the door of the funeral home toward South Avenue. The side streets were filled with cars and firetrucks of people who could not find room in the parking lot.
Capt. Earl Trimmer of the Alliance Fire Department attended with his son Brock, who has been a firefighter for eight months in Warren. Earl Trimmer said one of the reasons he attended is because he knew Russo's father, former city Fire Chief Rocco Russo.
"It's tragic," Trimmer said. "It's not the way you want to see someone go out."
Former city Councilman John Swierz, who was a city firefighter for several years, said Ronald Russo was an important person at the department because he was able to do a lot of different things. Russo spent most of his career working Squad 33, the vehicle that responds to almost every call.
Former arson investigator Capt. Alvin Ware, who retired from the department, also said Russo was an invaluable member because of his experience.
Today, mourners will get a final chance to say goodbye to Russo at a 9:30 a.m. prayer service at the funeral home, followed by an 11 a.m. funeral service at Poland United Methodist Church.
After the service, the procession will pass by the main fire station downtown where Squad 33 is based as it makes its way toward Green Haven Memorial Gardens.
More like this from vindy.com