Sylvester's goal sends Lakeview to D-II district final
Lakeview South Range Soccer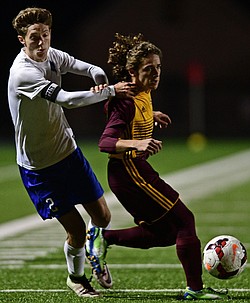 Gallery
Lakeview South Range Soccer
By BOB ETTINGER
CORTLAND
The Lakeview boys soccer team is about as prolific a scoring crew as there is. South Range coach Mike Bailey knew that, of course, and decided the Raiders would bunker in and do their best to limit the Bulldogs' chances and hope his team might make good on one of the few chances it would get.
Photo Gallery: Lakeview South Range Soccer
A one-timer off the foot of Anthony Sylvester altered that plan and sent the Bulldogs home from Don Richards Memorial Stadium with a 1-0 victory in a Division II district semifinal Tuesday night.
"It's not a game I'm too comfortable with, but it's the game you've got to play come tournament time," Lakeview coach Bryan Phillips said. "They know our attacking prowess and they were bunkered in well to start the game. They even kept numbers back when we had a lead. We were just trying to get out of here with a win. This time of year, you're just trying to advance. Any way you can."
Lakeview (17-1), seeded second, will take on top-seeded Howland (15-2-1), a 2-0 victor over Poland in the other semifinal in a district final at 7 p.m. Saturday at Bo Rein Stadium in Niles.
"Howland's an outstanding team," Phillips said. "I think they've only given up four goals all year so you're going to see another defensive effort like you saw tonight. That's why I think it's big for our confidence to win a 1-0 game because we expect something similar Saturday night."
Sylvester tallied in the 31st minute after Brendan White's throw-in was headed back up the middle of the field by a Raiders' defender. Sylvester stepped up and pounded it in along the ground from 25 yards out.
"The ball was there and my coach had said before the game, 'Their defense just packs it on in, in order to score, someone's going to have to run on in and have a harder shot on goal,' " Sylvester said. "I just had to step up and do that. My reason for sliding it on the ground was because they were so packed and on that over-the-top ball they had a good center back and he was winning everything. So the ground ball was what was working best."
Said Bailey: "It's one of those things that are just part of the game. We were playing real good, solid defense. It was just one of those things. It was a deflection. It got to the guy, he made a nice move it and he buried it. There's not much more to it. It's just one of those things that happen. It's part of the game."
With South Range (11-5-2) devoting nine players and a goalkeeper to playing defense, the Bulldogs' defense was tasked with having to be nearly perfect if the ball worked its way in their direction. Led by keeper Justin Grove, they were up to the task.
"I'm really proud," Phillips said. "Missing Marcus [Cole] tonight, who was unfortunately out with a torn ACL, he's been our rock in the back all year. Replacing him is about impossible, but Nathan Barber did a very nice job tonight in that spot. And then Logan Olszewski and Braxton Caldwell, I thought, were outstanding, as well as Michael Augustine in front of them.
"Justin Grove, my goalkeeper, as well, had a good night. He only had to make about three saves tonight, but it's a huge shutout for him and his confidence going forward."
More like this from vindy.com