Recovering from addiction at California Palms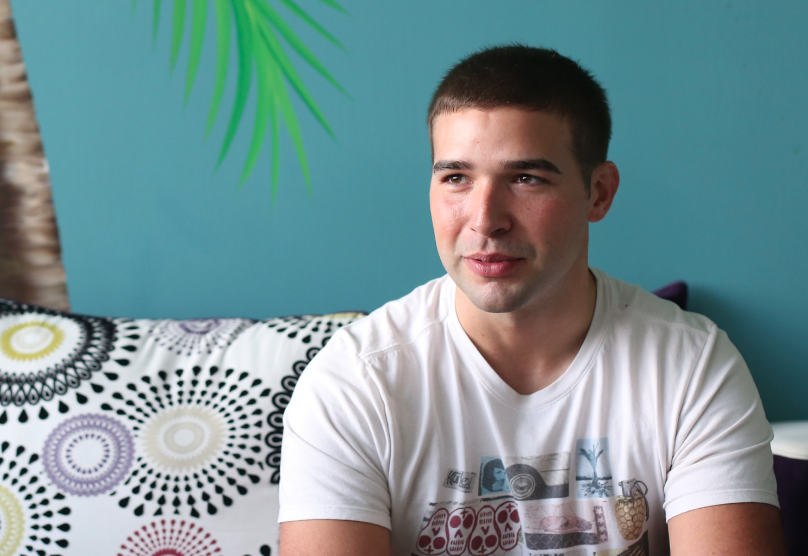 ---
By Billy Ludt
AUSTINTOWN
On March 17, Mike Kukonik made a pact to stop using heroin.
The day before, he overdosed in the restroom at a Veterans Affairs clinic. That was the 11th time he overdosed since returning home from the service.
"I didn't want there to be No. 12," Kukonik said.
Kukonik now lives at California Palms Veterans Addiction Recovery Campus, 1051 N. Canfield-Niles Road, with 23 other resident patients. He moved from his father's home in Pittsburgh and checked in March 27 as California Palms' first patient, just 10 days sober.
Kukonik served for six years in the Marine Corps. He was stationed in Jacksonville, N.C., as an avionics technician on V-22 Ospreys, and did a tour in Afghanistan in 2011.
After suffering a shoulder injury, Kukonik was prescribed painkillers while still on active duty. Three months later, he was discharged, and his prescription was cut off.
"When I got out, I went straight to heroin," he said.
At California Palms, Kukonik and fellow patients, the majority of whom are veterans, follow a structured schedule of group and individual therapy sessions, mixed with physical activities and other therapy- focused classes.
Seven months into recovery, Kukonik is about halfway through his first semester at Youngstown State University, pursuing a bachelor's degree in psychology and plans to attend graduate school for a master's degree in counseling. He said he has straight A's.
Kukonik said he'd like to work with recovering veterans full time after graduating and pull from personal experiences to help in their recovery.
"It's really interesting," he said. "You learn how everything works with your brain. It helps me understand why I was addicted."
Kukonik earned his blue belt in tae kwon do, and instead of one of California Palms' assigned therapy dogs, he has his tarantula, named Legs.
This past week, Kukonik drove home to visit his father for the first time since checking in.
"As long as I know I'm going to sleep sober and waking up sober, then I'm good," Kukonik said.
Kukonik was seven months sober Tuesday. He said at check-in he didn't think he could make it past 10 days sober.
California Palms began switching over from a hotel to a drug-treatment facility in late January and reopened in March. Owner Sebastian Rucci said the hotel was in the process of becoming a Wyndham Hotels & Resorts affiliate, but decided to pursue a veterans addiction recovery facility instead.
At maximum capacity, California Palms can house 180 patients. Rucci said the facility is easing into taking on more patients and employees and expects it to become busier come January.
California Palms' main focus is on rehabilitating veterans, but has taken on nonveterans as well who have past work experiences similar to patients from the military service – such as emergency medical service employees, police and firefighters.
Patients from across the country have come to the Austintown facility.
Clinical Director Mark Gallot said the patients are afforded a "degree of freedom and privacy that makes them able to have introspective views of themselves" that isn't necessarily available in traditional recovery facilities.
Most of the hotel amenities, such as its sauna, remained for the switch and are used for rehabilitation.
"We want to be different and to build structure that is different," Rucci said.
More like this from vindy.com
October 24, 2017 12:05 a.m.