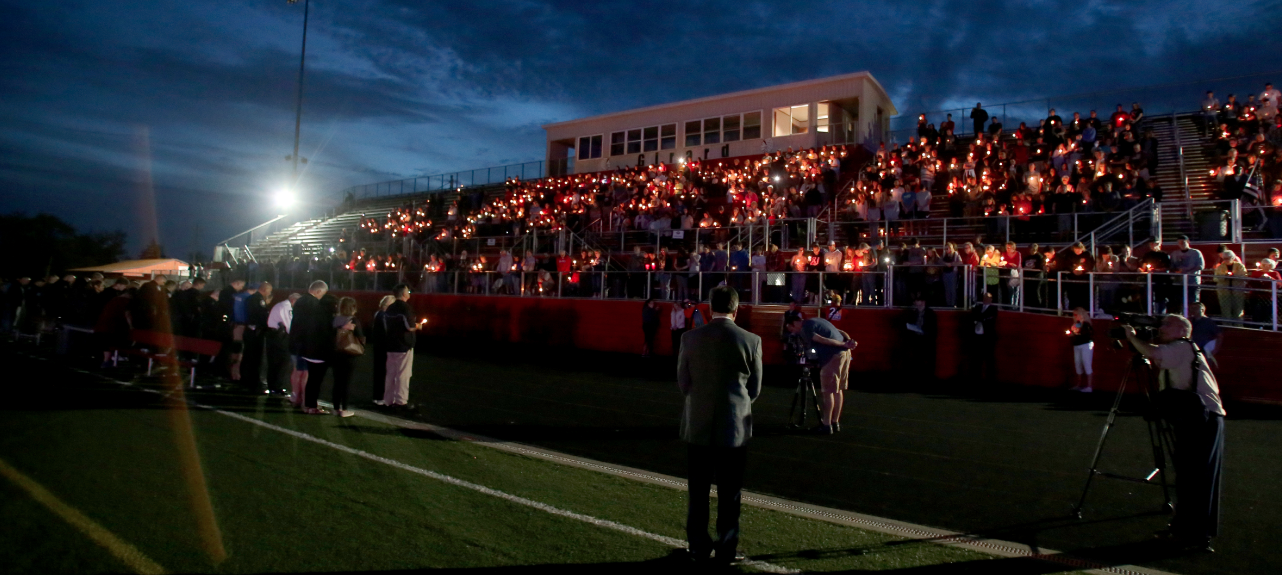 ---
Girard Patrolman Justin Leo Vigil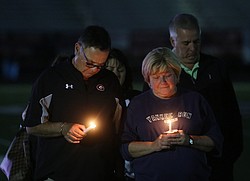 Gallery
GIRARD
More than 1,000 Girard residents and law-enforcement officers from surrounding communities attended a candlelight vigil Sunday night at Girard High School Arrowhead Stadium in honor of fallen city police officer Justin Leo, who was killed in the line-of-duty Saturday night.
Also, a community prayer service for Leo is scheduled for 7 p.m. Tuesday at St. Rose Catholic Church, 48 E. Main St.
Photo Gallery: Girard Patrolman Justin Leo Vigil
Leo, 31, is believed to be the first Girard policeman killed in the line of duty, said Girard Mayor James J. Melfi.
Leo was shot about 10:15 p.m. Saturday while responding to a reported domestic-dispute call at 408 Indiana Ave. He died later at St. Elizabeth Youngstown Hospital.
Marcie Plant, who along with Terry O'Neill organized the vigil, said she had known Leo since he was a child and wanted to do something to honor him. "He was awesome ... a great person whom everyone loved," she said.
"We felt this was something the community needed," O'Neill said.
The shooter, yet to be identified by police, was killed by a second Girard policeman who responded to the call. The identity of the second officer is being withheld, and he has been placed on paid administrative leave, Melfi said.
Details remain sketchy about what happened Saturday at the Indiana Avenue home, which is under investigation by the Ohio Bureau of Criminal Investigation.
However, Melfi said "we have been told" that once the shooting began, a male ran out the rear door of the house and was apprehended. No further information is available, the mayor said.
According to the Trumbull County auditor's website, the owner of the house at 408 Indiana is Angela M. Diana.
Police Chief John Norman said the investigation is being handled by BCI and information will come from that organization.
Leo, the son of David and Pat Leo, grew up in Girard and was a five-year veteran of the police department.
Rachel Leatherberry, who graduated from Girard High School with Leo in 2004, described him as "extremely intelligent with a passion to become a police officer. He loved his job," she said.
"I've seen him at Tod Park in uniform playing football with kids. He was trying to show them a different compassionate side of the police. It was a testament to his character and his heart," said Leatherberry as she waited for the vigil to begin.
Bobby Caldwell, a teammate on the high school track, cross country and basketball teams with Leo and also a 2004 graduate, ran laps on the track around the football field in memory of his best friend, the first carrying a baton and the second carrying a candle.
"This is a terrible loss for the community. An all-around good guy, he was so nice and so caring for this town. Of all the people for this to happen to. This is wonderful. He deserves it," Caldwell said of the vigil.
John "Bucky" Covington, an Army veteran and a 1974 graduate of Girard High, where he played basketball and football, said he had known Leo since he became a policeman.
"He was a good guy. For as long as I've been in Girard, the police have been good and looked out for the people of Girard," said Covington.
Melfi called Saturday the "saddest day in the city's history."
"We lost one of our finest citizens ... much too soon," Melfi said.
Norman said the police department does not have any tribute plans as yet. "We will go with the family's wishes with regard to tributes or services."
Meanwhile community members have come together on Facebook to organize several ways to pay tribute to Leo.
A collection is being taken at the Girard Dairy Queen, one community member posted that she plans to make T-shirts in Leo's honor, and another person is making stickers that will be available for free at the Girard Police Department.
Plant said all of this shows how the Girard community sticks together.
"We're strong. We all stick together," she said. "This is devastating to us."
More like this from vindy.com