East Side church raising funds for bell tower renovation project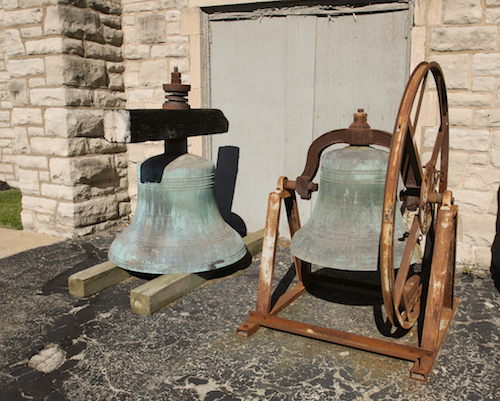 ---
By SAMANTHA PHILLIPS
YOUNGSTOWN
An East Side Church is having a fundraiser to keep the old Immaculate Conception Church bell ringing in the Valley.
The Immaculate Conception Church closed when it merged with the Sacred Heart Church in 2011. The churches combined to create the St. Angela Merici Parish, housed at Sacred Heart's location, 400 Lincoln Park Drive.
Diana Hancharenko, young-adult minister at the parish, said the merger was difficult but created an "amazing and growing community."
The parish wants to symbolize the integration of the church communities by installing the Immaculate Conception bell next to the Sacred Heart bell in the bell tower.
"This is something that was the dream of the parish from when Immaculate Conception and Sacred Heart merged in 2011," Hancharenko said.
The parish plans to restore the bells, install the additional bell and build a reinforcement wall around the bell tower.
"The placement of the Immaculate Conception bell in the tower alongside the Sacred Heart bell is truly a significant step in the coming together of our parish community," said the parish's pastor, Kevin Peters, on its website.
The parish's "Let the Bells Ring" campaign is collecting monetary donations, and people can buy legacy bricks for the bell tower.
"The legacy bricks are a big part of our endeavor. People can purchase them in memory of a loved one, in honor of a graduation class or whatever occasion they see fit," Hancharenko said.
The Catholic Extension provided a $30,000 matching grant for the parish through the Youngstown Diocese, but the parish must raise the $30,000 by March 2018 for the organization to provide the grant.
As long as the parish is able to raise enough money, the bell project will start as soon as it receives the grant.
Grimilda Ocasio, chairwoman of the campaign, said organizers are reaching out to former faculty, staff and students who attended the churches' schools and members who attended the church before the merger to encourage them to donate.
Extra donations will go toward expanding handicap parking and adding a new ramp and chairlift for the parish office.
The 4-inch by 8-inch bricks can be bought for $100; 8-inch by 8-inch bricks can be purchased for $200; and the 12-inch by 12-inch bricks can be purchased for $500.
The church is taking donations. To donate, call the parish at 330-747-6080 or go to stangelayoungstown.org. People also can make a monetary donation without purchasing a brick.
More like this from vindy.com