UPDATE | More than 1,000 attend candlelight vigil for slain Girard police officer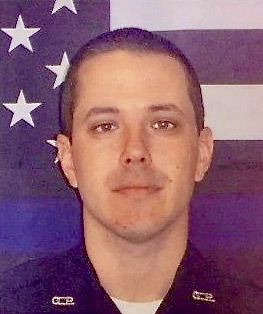 ---
GIRARD
More than 1,000 Girard residents and police officers and fellow law enforcement officers from surrounding communities attended an impromptu candelight vigil Sunday night at Girard High School Arrowhead Stadium in honor of fallen city police officer, Justin Leo, who was killed in the line-of-duty Saturday night.
Also, a community prayer service for Leo is at 7 p.m. Tuesday at St. Rose Church, 48 E. Main St.
Leo, 31, is believed to be the first Girard policeman killed in the line-of-duty, said Girard Mayor James J. Melfi.
Leo was shot at about 10:15 p.m. while responding to a reported suicide call at 408 Indiana Ave. He died later at St. Elizabeth Youngstown Hospital.
The shooter was killed by a second Girard policeman responding to the call. The officer has not been identified but has been placed on paid administrative leave, Melfi said.
Details remain sketchy about what happened Saturday at the Indiana Avenue home, which is under investigtion by the Ohio Bureau of Criminal Indentification and Investigation.
Girard Mayor James Melfi said Leo died in surgery at St. Elizabeth Youngstown Hospital, where his parents were waiting.
"Justin Leo was a young man I knew most of his life. An absolute gentleman and someone who the city has been proud of since he had been here with us. Our communities, prayers and thoughts go out to Leo's family," Melfi told 21 WFMJ-TV.
Officers from multiple departments quickly responded to the scene after receiving the officer-involved shooting call around 10:15 p.m.
According to a transcript of released 911 calls:
"Hey it's Girard. I need anybody you got to 408 Indiana for shots fired. We got an officer down."
Dispatcher: "408 Indiana?"
"Yea. Male with several firearms. He's been drinking all day."
Neighbors told The Vindicator they saw an ambulance on the scene after hearing gunfire. It quickly departed, apparently carrying the officer who had been shot after the suspect, who Melfi said lured the officer inside.
The Ohio Bureau of Criminal Investigation had a press conference early Sunday morning. They are still looking into the circumstances surrounding the shooting.
More like this from vindy.com
October 22, 2017 9:15 p.m.