Valley man launches social network for those dealing with addiction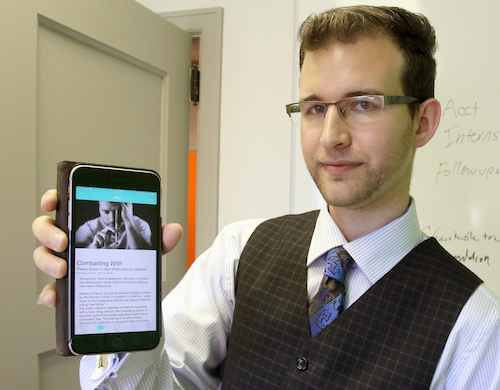 ---
YOUNGSTOWN
By its nature, addiction can be a lonely disease.
Many people in the throes of addiction have alienated their loved ones, and a persistent stigma remains attached to the disease.
A Mahoning Valley native, however, is hoping to transform addiction from an isolated experience to a social one.
Brandon Kovach, a local tech entrepreneur who runs a social media advertising company, recently launched "Heroes of Heroin," a social network for people struggling with and recovering from drug addiction.
The network is similar in style to Facebook, with a news feed, blogging, and private messaging. It's available on desktops and on iPhone and Android apps. Kovach envisions it as a place where people dealing with their addiction can share their experiences, judgement-free, with like-minded individuals.
"I know if I had the issue, I'd find it very hard to go to my friends, even my dearest friends, and say, 'I'm really struggling with my addiction,'" Kovach said. "I think it'll give people an opportunity to talk about what helped them, when they're relapsing what they're struggling with – the kinds of things you might not want to post publicly on your Facebook."
Kovach grew up in Austintown and graduated from Fitch High School in 2010. The 26-year-old now runs his own business, the Kovach Companies, which is based out of an office in downtown Youngstown.
In addition to his tech ventures, the entrepreneur said he has always had an interest in philanthropy. He recently launched a charitable organization: the Kovach Family Foundation. Money from the foundation will fund Heroes of Heroin, as well as other projects.
Kovach said he felt that other approaches to drug addiction weren't working, so he wanted to try something new: empowering people.
"For too long we have talked about this issue without empowering the very people seeking help. It is my hope that this network empowers people to take control of their own situation and to extend a helping hand to others in battle," he said.
He hopes, for example, that people will feel free to share when they slip up with their recovery – which might not be something they want to share with their close friends or Facebook followers.
Numerous safety features are built into the network. For example, anyone who seems to be using the site inappropriately can be immediately reported and blocked. People also can use their Facebook accounts to sign up, which gives the network a way of verifying that the person registering is who they say they are.
One way the network is different from Facebook is the algorithm it uses to determine what users see on their feed. While Facebook users see only a fraction of their friends' activities, Heroes of Heroin will show its users everything that friends post on the site.
Due to the network's focus on addiction and recovery, Kovach said the site will prominently display information such as suicide hotline numbers, and will encourage users to report posts that indicate the individual might be in danger.
Also, only those who sign up for the site can see content on it.
Kovach hopes the network will reach people well beyond the Mahoning Valley, and said he is committed to supporting Heroes of Heroin no matter what.
"If it can help anybody, it'll be worth every cent of it," he said. Within a day of launching the network, Kovach had reason to be optimistic: His first user had signed up.
More like this from vindy.com