Wick Park's disc golf course off to flying start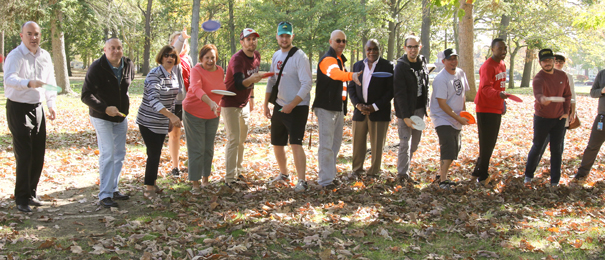 ---
By BILLY LUDT
bludt@vindy.com
YOUNGSTOWN
The Valley's latest golf course fits within the confines of a city park.
City and Youngstown State University organizations marked the opening of a nine-hole disc golf course at Wick Park, 260 Park Ave., with a launch party Friday. The disc golf course addition is part of the Wick Park Improvement Project, headed by Youngstown CityScape.
"This, I think, is a project – in the last month since it's been installed – that has created higher circulation in the park," said CityScape associate director Phil Kidd.
Disc golf was a sport Kidd didn't try until about a year ago. Before that, it was something he had only heard of, until he took a trip to a small park in Ashtabula.
Kidd's attention was drawn to the carloads of people coming to the park, many with discs in hand.
"I saw tons of people playing disc golf at this small park," he said. "After that, I said, 'All right, I need to know everything about this.'"
Kidd said he sees groups of people playing the Wick Park course every day, including some from Cleveland and Pittsburgh.
Disc golf baskets, up at Wick Park since August, were play-tested by members of Mahoning Valley Disc Golf Association and adjusted for Professional Disc Golf Association standards.
Disc golf, much like the traditional sport, is played by strokes. Trade the clubs and ball for some flying discs and the hole for a basket, and that's disc golf.
Disc golf players throw their discs and ultimately try to land them in the basket at the end of each hole with as few strokes as possible.
Money for the course was raised through crowdfunding and with assistance from the city's Parks and Recreations Department, Chick-fil-A in Poland and Youngstown City Council.
The course at Wick Park was designed by Trevor Murphy of Borderline Discs of Sharpsville, Pa.
"The disc golf community itself is unique," Murphy said.
Murphy has designed three other courses. This was his second city park course, which, he said, can pose difficulties for fitting all nine holes, but he managed.
"I'm really proud of it," Murphy said.
In addition to his disc golf business, Murphy has played the sport for 10 years, the last four competing in PDGA amateur tournaments.
"We're athletes that like to walk in parks," Murphy said. "That's what keeps us going. It's a little, passionate community."
YSU Campus Recreation is planning to organize intramural disc golf tournaments at Wick Park's course and will offer rental disc sets for students. Ursuline High School also will use the course for student use.
Anyone with a completed score card from Wick Park's disc golf course can bring it to Cultivate: Co-op Cafe for 10 percent off an order.
More like this from vindy.com