Mooney manhandles Ursuline in trenches
Mooney vs Ursuline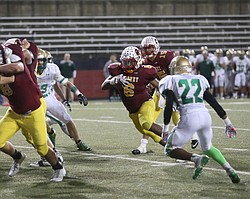 Gallery
By BOB ETTINGER
YOUNGSTOWN
Cardinal Mooney football coach P.J. Fecko believed it important to control the line of scrimmage against rival Ursuline on Friday night.
The men in the trenches for the Cardinals did their part and a bit more in that regard as they rolled to a 49-21 victory at Stambaugh Stadium.
Photo Gallery: Mooney vs Uruline
"I thought we did a pretty good job up front," Fecko said. "We were sustaining blocks and coming off the ball. I thought it important to establish the line of scrimmage on both sides of the ball. The guys up front did that job."
The Cardinals (5-4) rushed 62 times for 419 yards and scored six touchdowns on the ground.
"I think they were much more physical than we were up front," Ursuline coach Larry Kempe said. "As everyone knows, it starts in the trenches. Tonight, they were better up there than we were."
That kind of ground success can change a game in a hurry.
"I can only speak for our offense," Fecko said. "What our offense was able to do was control the game. We were able to control the clock, the momentum of the game and the tempo of the game. We kept moving the sticks and controlled field position."
"That's the big thing," Kempe said. "We needed the defense to get off the field. I attribute that to [Mooney]. We missed a lot of tackles. We'll see that in the morning, but just watching first hand and replays, we missed a lot of tackles."
Antonio Page led the way with 174 yards on 27 carries. He scored both of Mooney's first-half touchdowns in netting 94 of those yards.
"[The line] was doing a great job tonight," Page said. "They were getting their guys and doing what worked in practice. It worked well for us. I was seeing big, open holes. They were opening big holes. Every opening was one cut and we had 10 or 15 yards."
Andre McCoy picked up where Page left off in the third period with three touchdowns and 81 yards in the second half. He finished with 147 yards on 17 attempts.
"[The linemen] were just staying on their blocks and helping me get the job done," McCoy said. "That makes it so much fun. It keeps me motivated. Every play I see something like that and it keeps me going."
Chris Gruber scored also had a 32-yard scoring run on his way to 43 yards on the ground.
Brennan Olesh scored the Cardinals' other touchdown on a 15-yard pass from Page.
The Fighting Irish (2-7) scored the game's frst points as Daivon Jones took the opening kick 72 yards for a score.
Mooney slowly took back momentum.
"That was a big momentum swing right out of the gate," Fecko said. "Our guys did a really great job of figuring out a way to swing that momentum back. [Ursuline] was riding high. Our guys did a good job of settling in and being focused. We started to move the ball on offense and got some stops on defense."
Jared Fabry rushed for a 13-yard score and Joe Floyd added a 16-yard touchdown run for the rest of Ursuline's points.
The Irish managed just eight first downs and totaled 202 yards (104 on the ground, 98 through the air).
More like this from vindy.com