Boardman students learn about making good choices at Yes Fest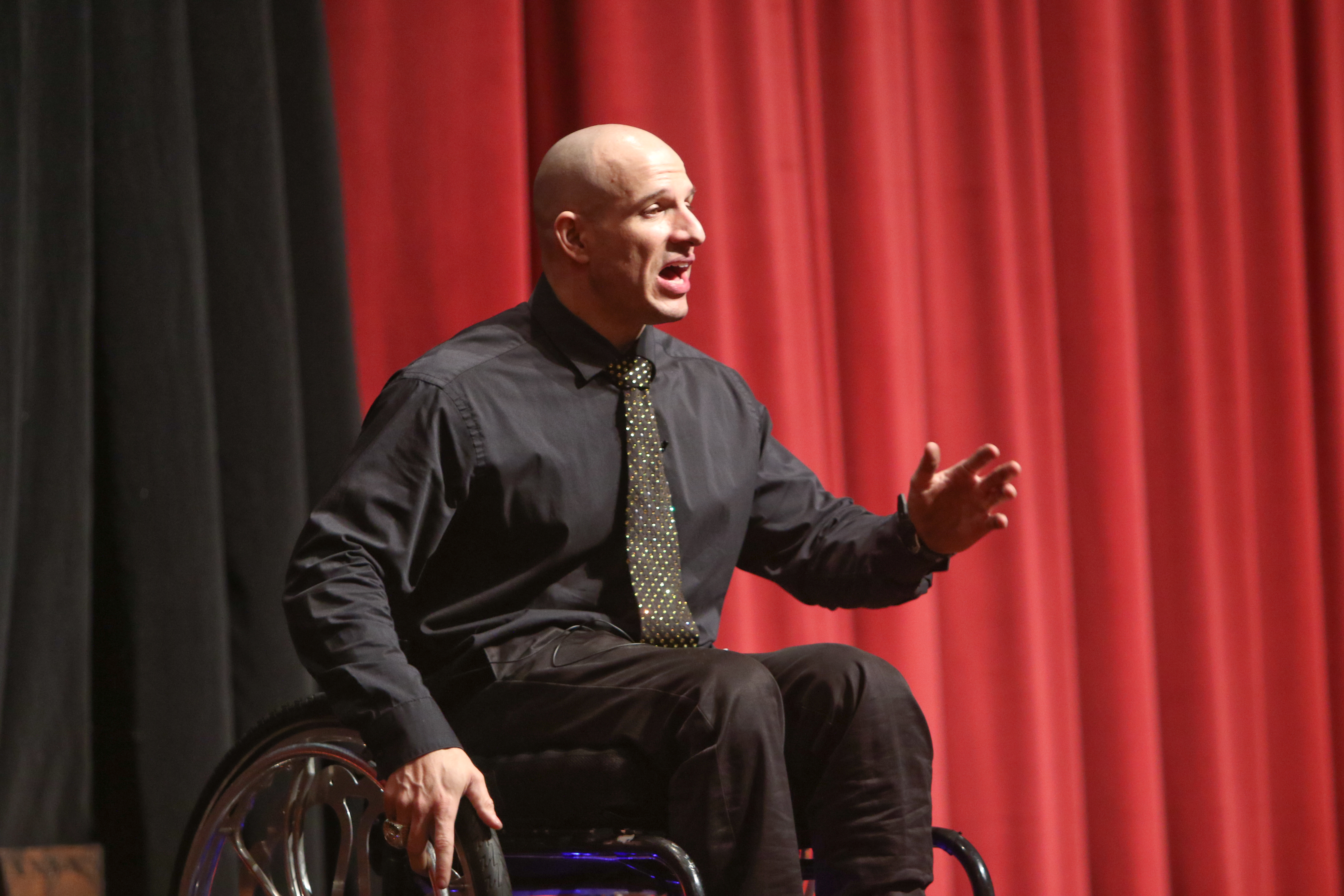 ---
BOARDMAN
Sitting on stage in his wheelchair at Boardman High School, Nick Scott told students about the car accident that, at age 16, left him paralyzed from the waist down.
He told them about waking up in a hospital and a doctor bluntly telling him he'd never walk or play football again.
He told them, too, how his friends and family members abandoned him when he needed them most, and how he struggled with depression and thoughts of suicide.
He told them all of this – and then he stood up. And as students broke into thunderous applause, Scott took a few steps.
"Just because somebody says you can't do something – that's their mindset. That's small thinking. Think big," said Scott, a professional wheelchair bodybuilder and dance champion. "If you want to be something great, you have to choose."
Choices were a theme at the high school Friday, where the school's fifth annual Yes Fest took place.
During Yes Fest, junior-high and high-school students heard from Scott, and high-school students attended a fair where they could sign up for volunteer opportunities. The event encourages students to say "no" to negative behaviors and "yes" to positive ones.
Yes Fest grew out of tragedies the school community experienced several years ago.
"In 2013, there were three days that changed everything for our Spartan family," high-school Principal Cynthia Fernback said. "On each of those days, one by one, we lost one of our Spartan family members to drugs."
After those deaths, school leaders felt they needed to respond. The result was Yes Fest.
"After you say 'no,' we want to show you what you can say 'yes' to," Fernback told students. "We are challenging you to reject drugs and instead embrace things that are good and positive."
This year, the event drew about 50 local organizations where students could sign up to volunteer.
Students Brigita Ositis, Adriana Troutman, and Julia Schrembeck signed up to volunteer at Animal Charity of Ohio. All three said they think Yes Fest is a good thing for students. "It's nice because it's a way to see how you can help out in the community," Ositis said.
Natalie O'Heren and Teagy Al-Shawabkah stopped by the Salvation Army table, where they learned about volunteer opportunities such as helping in a soup kitchen and distributing toys.
"I think [Yes Fest] is a really good influence," O'Heren said. "It's not going to get through to everybody, but it probably does for most people."
Several students said they were inspired by Scott's speech. Scott told students he's often asked whether, if he could go back in time, he'd make it so the car accident never happened.
No, he said.
Why?
"From then, I chose to live my life a different way than others," he said.
Standing up from his wheelchair, he said, "The question is, what do you choose?"
More like this from vindy.com