Henning's heroics save Western Reserve
Western Reserve vs McDonald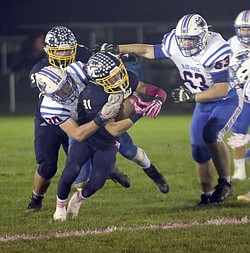 Gallery
By Steve Ruman
MCDONALD
For 47 minutes and 36 seconds of Friday's Mahoning Valley Athletic Conference showdown between Western Reserve and McDonald, Todd Henning was a little-known sophomore on a talented Western Reserve roster.
In the final seconds of play, Henning stunned the capacity crowd at A.A. Burkey Stadium. In the process, Western Reserve prevailed with a 13-8 victory, and Henning became "a legend and a hero," says Western Reserve coach Andy Hake.
Photo Gallery: Western Reserve vs McDonald
Henning returned a kick-off 87 yards for a touchdown, giving Western Reserve the 13-8 lead with 10 seconds remaining in the contest. For good measure, Henning sealed the game with an interception of a desperation pass at the Western Reserve goal line as time expired.
Henning's heroics came moments after McDonald scored a touchdown on an Alex Cintron three-yard run. McDonald then gambled and successfully converted a two-point try (a Cintron run) to take an 8-7 lead with just 24 seconds showing on the clock.
"Heroes are born every day," Hake said afterward. "Only in America, only in America can you come out and see stuff like this. They're not doing it in North Korea, they're not doing it in Syria, we're doing it here in Berlin Center. We'll stand for the flag always, we'll salute our country always, and it's always America first."
Henning joked that he returned the kickoff with the fear of being benched if he didn't score.
"All year long, we've been getting good kickoff returns to about the fifty," Henning said. "I got through the line, and all I saw in front of me was the kicker. Against South Range I got tackled by the kicker, and my coaches told me if that happened again, I'd be out of the game.
"The interception to end the game, I kind of figured they would go to (Cintron), so I just focused on covering him from the start."
With the victory, Western Reserve (7-2) virtually guarantees itself a playoff berth. It entered the night ranked fifth in Division VI, region 21. The loss dealt a severe blow to the playoff hopes of McDonald (7-2), which was ranked 10th in Region 21.
Western Reserve, McDonald and Springfield are now in a three-way tie for first place in the MVAC, all with 5-1 league records.
Following a scoreless first half, Western Reserve took the opening possession of the third quarter and marched 70 yards on 10 plays to take a 7-0 lead. Adam Gartell (23 carries, 75 yards) was the workhorse on the drive, carrying the ball five times. However, when Western Reserve reached the McDonald 28, it went to its air game.
Quarterback Dominic Velasquez connected with Kade Hilles on an eight-yard strike, then on the next play Velasquez hooked up with Ryan Demsky, who fought off several defenders in the end zone to pull in a 20-yard pass.
McDonald put together its scoring drive when it took over at its own 42 with just 2:36 showing on the clock. Cintron (18 carries, 126 yards) led McDonald down the field, and eventually into the end zone. His successful two-point conversion run gave his team what appeared to be a game-clinching 8-7 advantage.
Hake was not surprised that the game came down to the final seconds.
"This was the pinnacle of us playing one another," Hake said. "(McDonald) is one of the best small-school football teams in the state. They have a great coaching staff, and a great community.
"We got lucky at the end, but sometimes you'd rather be lucky. We played our butts off. They played their butts off. We never quit. This was just a great high school football game."
McDonald coach Dan Williams could only tip his cap to the opposition, and to his own club.
"We went from an extreme high to an extreme low in minutes," Williams said. "They came out with all the momentum in the second half. Our guys could have given up, but they kept coming at it time and time again."
"It's just a tough loss, a tough way to lose to a very good football program."
McDonald closes the regular season next Friday at Lowellville. Western Reserve will tune up for the playoffs at Jackson-Milton.
More like this from vindy.com
October 21, 2017 12:08 a.m.