Family, city mourns YFD battalion chief's death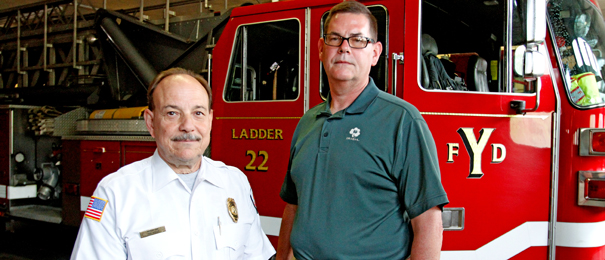 ---
By JUSTIN WIER
jwier@vindy.com
YOUNGSTOWN
Rocky Russo said his dad, Ronald, put others ahead of himself his entire life.
"He was the greatest guy there ever was," Rocky Russo said. "When everybody was running out of a building, he was running in, and when he wasn't saving strangers, he was an incredible family man."
Ronald Russo, a battalion chief in the Youngstown Fire Department, died Friday afternoon after a motorcycle crash in Ashtabula County.
Russo, 64, of Poland, was riding a motorcycle when it collided with a van at the intersection of state Route 45 and North Bend Road in Saybrook Township at 12:51 p.m.
The van pulled out in front of Ronald Russo and his brother Bob, a Mahoning County deputy sheriff, who avoided the collision, Russo's daughter Melissa said.
Paramedics life-flighted Ronald Russo to University Hospitals in Cleveland, where he died of cardiac arrest.
The crash occurred on an especially difficult day for Rocky, who was heading back to Youngstown to talk to his dad about his wedding plans – and one thing in particular: He wanted him to be his best man.
At 37 years, Ronald Russo was the longest-serving firefighter in the Youngstown Fire Department.
Youngstown Mayor John McNally said Russo's death caught everybody in the city off guard.
"This is an event that has the fire department reeling today," McNally said.
He said Russo was well respected within the department and in the community as a father and grandfather.
"That's who most of us are thinking about tonight – his kids and his grandkids who he loved tremendously," McNally said.
Russo's daughter, who lives in Boardman, said her dad was a kind-hearted, loving human being.
"He took care of every single one of us," she said.
Her dad was "one hell of a cook" and knew how to throw a party, she added, and he loved to go on motorcycle rides with his brother when the weather allowed.
Russo's father, also named Rocky, was a former chief of the Youngstown Fire Department; he died in 2008. Russo's other brother, Richie, is a retired firefighter.
"Ron and his family have been dedicated to this community for many years," McNally said.
In addition to Rocky and Melissa, he is survived by his wife, Joann, two other daughters – Margaret and Marie – and two stepchildren – Justine and Tristan.
In an interview with The Vindicator earlier this year, Ronald Russo spoke about responding to difficult calls.
"You just go do it," he said. "Take a deep breath and go do it. You don't think about that stuff."
More like this from vindy.com