Fitch shuts down Boardman air traffic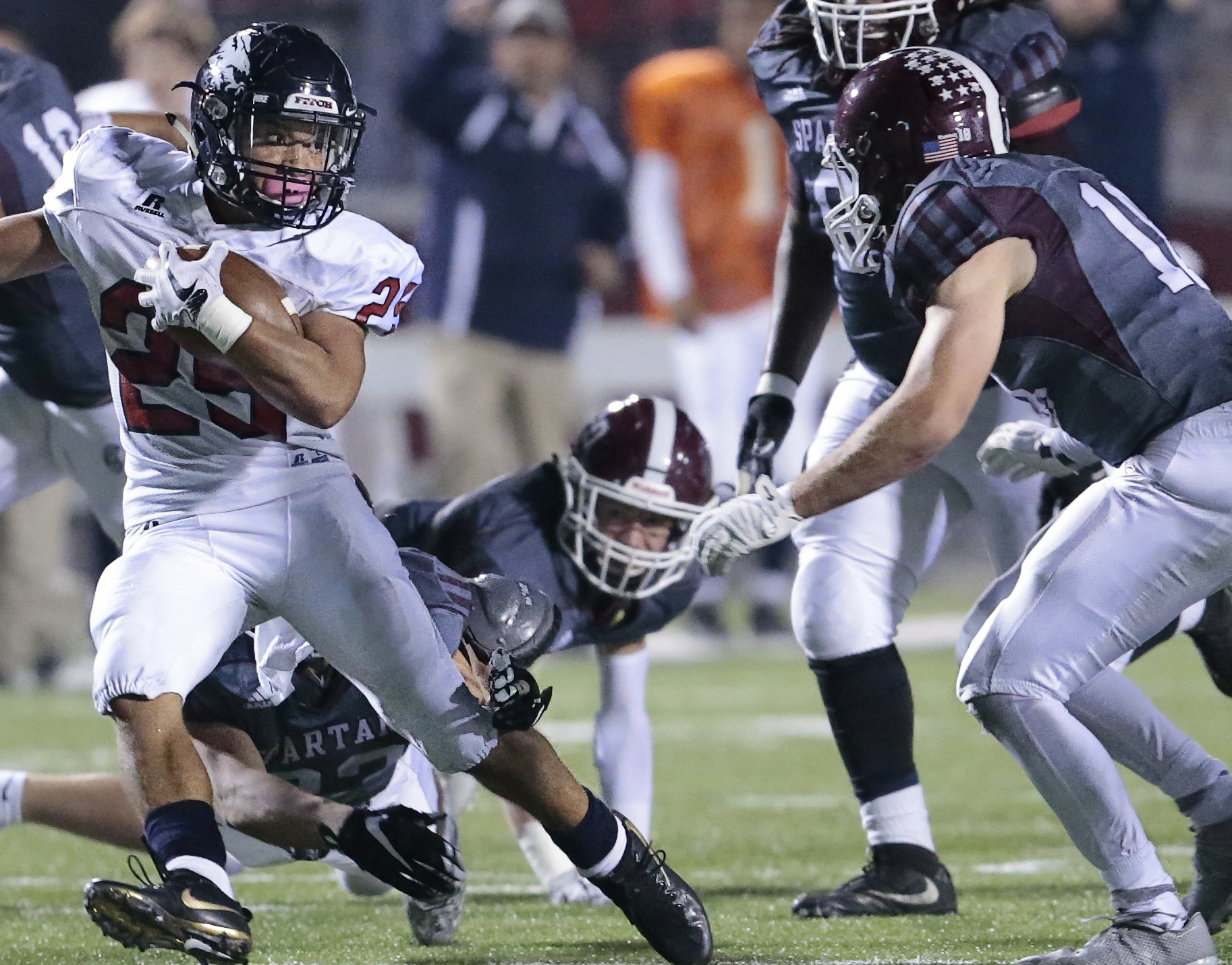 ---
Fitch vs Boardman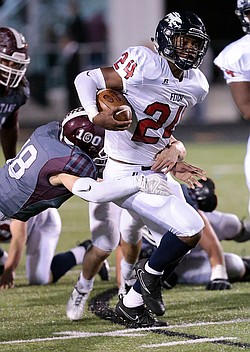 Gallery
By Brian Dzenis
BOARDMAN
Looking at the tale of the tape, Austintown Fitch offers an enticing matchup for opposing quarterbacks.
With a slew of defensive backs well under six feet tall, it makes sense for Boardman to put someone like the 6-foot Keyshawn Colmon on Shane Hewlett — generously listed at 5-foot-7 on the roster. But the small secondary, plus a nasty group up front, pressured the Spartans into their worst passing outing of the season in a 28-7 victory Friday night.
Photo Gallery: Fitch vs Boardman
"We've been playing with those same 5-foot-5 corners for years. Everyone thinks they can just heave it up there," Fitch coach Phil Annarella said. "There's always the height advantage and our kids play with a chip on their shoulder. They know people feel that way and they're determined to not let that happen."
Boardman's Mike O'Horo was 1 for 12 for three yards and threw three interceptions. Two of those went to Hewlett.
"It doesn't matter how tall you are. You just go out and compete," Hewlett said. "You try your hardest and good things happen."
Fitch's Joey Zielinski intercepted O'Horo in the first quarter for a 53-yard pick six.
At 6-3, Fitch will need a win at Cardinal Mooney next week to make the playoffs. Boardman (5-4) loses a shot at a home playoff game. The Spartans have a Week 10 home date with Ashtabula Lakeside — a must-win — and they may need some outside help.
"Our season is still alive. We'll get back and do what we do every week," Boardman coach Joe Ignazio said. "We watch film, we'll correct our mistakes and put ourselves in a position to make the playoffs."
Fitch's defense has been on a tear lately. The Falcons entered Friday's contest coming off two shutout victories. In addition to the Spartans' passing futility, they didn't get a first down in the second half until the final two minutes of the game.
Running back and linebacker Jakari Lumsden had an excellent night, rushing for 129 yards and two touchdowns against the Spartans. Lumsden is not like his teammates in the secondary as the 6-2 back had tacklers bouncing off him and when that didn't work, he had a neat spin move to get out of trouble.
"I trusted my instincts, read the plays and got the touchdowns," Lumsden said.
Fitch took the lead at 14-7 in the second quarter after Lumsden's 12-yard touchdown run. Boardman found itself in place to tie the game with a fourth and one at Fitch's 14 with under a minute until halftime. O'Horo took the snap in the shotgun and Emanuel Dawkins met him in the backfield for the turnover on downs.
"I'll tell you what, that was a heck of a stop," Annarella said. "It was a momentum swing and it's just a credit to our kids. They played hard tonight and I'm just very very proud of them."
Lumsden was standout player on defense as well with two tackles for a loss and a sack.
Fitch's kill shot came in the final minute of the third quarter. Sitting 22 yards away from the end zone, Zielinski took off to his right down the sideline. The senior quarterback made it 10 yards before losing the football. Senior wideout Dylan Beany picked up the fumble and went the final 12 yards, stretching to hit the pylon with the ball for the score.
Fitch fumbled four times, losing two of them in the fourth quarter when Annarella sent his reserves out to close out the game.
"I tried to give my backup quarterback some reps. He was told to hold on to the ball and we fumbled," Annarella said. "I apologized to [Ignazio], we had the backups ready to go in, but we kept losing the ball inside our 30. That's a killer."
Boardman's Domonhic Jennings rushed for 104 yards and a touchdown.
"Our defense is outstanding, but we have to keep it up and keep playing hard," Hewlett said. "I was kind of upset we didn't get a shutout."
More like this from vindy.com
October 21, 2017 12:10 a.m.