---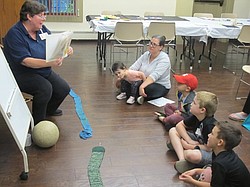 Photo
Neighbors | Zack Shively.Boardman librarian Karen Saunders read "Just Like Daddy" by Frank Asch to children during A Box of Books in the library on Oct. 12. The children pictured are Peyton, Christopher, Brady and Mary Jane.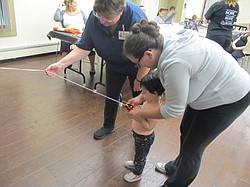 Photo
Neighbors | Zack Shively.Mary Jane used a tool to wind three pieces of yarn together to make a craft based on Rapunzel. Librarian Karen Saunders tied the yarn to a hair tie and her mom put the hair tie in her hair to give her a long braid of hair like Rapunzel.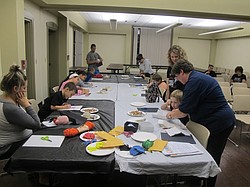 Photo
Neighbors | Zack Shively.Children colored and folded construction paper to create a craft treasure box at the Boardman library on Oct. 12. Children pictured are Peyton, Destina, Abrianna, Brady, Christopher and Brooklyn.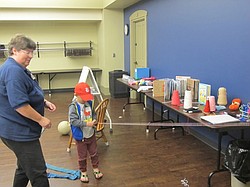 Photo
Neighbors | Zack Shively.The children made crafts at A Box of Books at the Boardman library. They all made a treasure box, fishing line or a Rapunzel braid. Pictured is librarian Karen Saunders helping Peyton make a fishing line.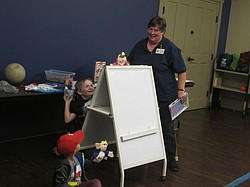 Photo
Neighbors | Zack Shively.The first story at Boardman Library's A Box of Books event, "Falling for Rapunzel," took the tale of Rapunzel and gave it a twist. Pictured is Christopher as Repunzel getting ready to throw an object over the whiteboard.
By ZACK SHIVELY
Parents and children came to the Boardman library's A Box of Books event on Oct. 12 for stories and crafts.
Boardman librarian Karen Saunders organized the event to include five children's books and two crafts. Three of the stories had to do with boxes.
The event began with Leah Wilcox's "Falling for Rapunzel," a twist on the Rapunzel tale. Saunders had a child play Rapunzel, wherein he tossed objects over a whiteboard while wearing a Rapunzel hand puppet.
Then, they read "Just Like Daddy" by Frank Asch, where the narrator did things just like his dad, such as fishing.
The next three stories fell under the box theme. Saunders read "Sitting in My Box" by Dee Lillegard, "Big Friends" by Linda Sarah and "Not a Box" by Antoinette Portis. Saunders included a participation aspect in each of the stories.
After the story, the children began their crafts.
Each child sat down at the craft table to create a treasure box. They folded and colored construction paper to look like a box. They used black construction paper after to create a bottom for the boxes.
While they made the boxes, Saunders had the children come up one at a time to create either a fishing line or Rapunzel hair.
For the fishing line, Saunders took three types of yarn and used a tool to braid them together tightly. The line connected to a fishing hook. Saunders gave them paper fish to catch.
The Rapunzel hair craft was similar to the fishing line. Saunders wrapped three types of yarn together and connected the yarn to a hair tie. The hair tie went into a ponytail on the child's head giving the child a long lock like Rapunzel.
The event was a special version of the children's events that Saunders holds throughout the month. Many of her other events have age restrictions, but this event was for children of all ages.