Poland library combines literacy and creativity

Photo
Neighbors | Zack Shively .The children at Listen and Lego listen to a story and build with Legos for the remaining time left in the hour. Librarian Vikki Peck gave them a box full of Legos and handed them special pieces.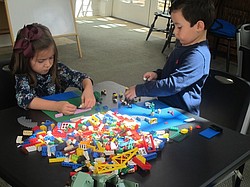 Photo
Neighbors | Zack Shively.Childen played with Legos after story time at Poland library's Listen and Lego event. The story librarian Vikki Peck read to the children a book that constructed a dinosaur's face page-by-page.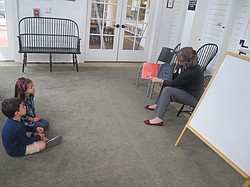 Photo
Neighbors | Zack Shively .Libraian Vikki Peck read a story to a couple children at Listen and Lego at Poland library on Sept. 7.
by ZACK SHIVELY
Poland library invited children and parents to the Listen and Lego event on Sept. 7 where children had story time and then played with Legos.
Librarian Vicki Peck read a short children's story to the children to begin the event. The story used different shapes to slowly construct a dinosaur's face. The book added more to the dinosaur with every turned page until the end.
Peck said she always tries to incorporate a story that involves construction of building to go along with the Legos. She treats the reading as an interactive event where the children play a role. During this book, she asked the children if they knew what the book was making.
After the story, the children went over to a table with Lego bases placed on it. Peck grabbed a box of Legos and dumped some out on the table for the children to play with. No one instructed the children to build anything; they created whatever they want, allowing their creativity to flourish.
Peck helped the children with whatever they needed, such as special Legos that were not in that box or building advice. Peck and the children put the Lego creations on display in the children's section of the library after they finished.
The library hosts this event on the first Thursday of every month during the school year for children from ages four to seven. The event typically lasts one hour.
More like this from vindy.com