Braking Point locations searched in federal probe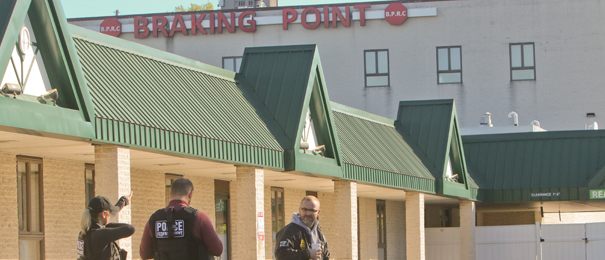 ---
Staff report
AUSTINTOWN
Braking Point Recovery Center, an addiction-treatment provider with a location in the Mahoning Valley, is the subject of a Federal Bureau of Investigation probe that involves numerous other federal and state agencies.
Investigators served search warrants at numerous locations associated with Braking Point Wednesday. Searches were conducted at BPRC's Austintown location on state Route 46, its Columbus-area location, and at owner Ryan Sheridan's Leetonia residence.
FBI Special Agent Vicki Anderson said the search warrants are sealed and could not release any details about the nature of the investigation or what prompted it. Anderson described the operation as an "ongoing joint investigation" that also involves the Office of Inspector General of the U.S. Department of Health and Human Services, Drug Enforcement Administration, Internal Revenue Service, Ohio Pharmacy Board, and the Ohio Attorney General's Medicaid Fraud Control Unit.
Anderson said she did not yet have a timeline for further developments in the case, but that it will be some time before there are any updates.
She said the FBI is asking anyone with information or concerns about Braking Point to contact the FBI's Cleveland office at 216-522-1400.
Sheridan opened Braking Point as an outpatient service provider in 2015, according to Vindicator files. Before offering outpatient services, Braking Point offered drug testing, driving-under-the-influence school and other services. At the beginning of 2015, Braking Point had eight employees. The company had grown to about 170 workers between the two locations by January 2017.
Although someone who answered the phone at the Austintown office said the center declined to comment, Braking Point posted this on its Facebook page Wednesday: "Braking Point is still providing patient care as usual. If you are coming in for in-patient treatment, your bed is still available at your scheduled time to check-in. This is an administrative issue. Treatment and care will still continue. We still want our clients to receive their treatment. Our main concern is your continued sobriety. Thank you! Please share!"
Sheridan did not respond to numerous requests for comment Wednesday.
21 WFMJ-TV, The Vindicator's broadcast partner, obtained a statement from Friedman & Rummell Co., Sheridan and BPRC's legal counsel: "At this point, we are unaware of the extent of the investigation, and until we have a better understanding of its scope, we are simply unable to provide any information at this time. We are hopeful that Braking Point can continue its operations to serve the community."
The Vindicator reached out to the other agencies involved in the investigation. Some declined to comment or directed inquiries to the FBI.
Don White, spokesman for the Office of Inspector General of the U.S. Department of Health and Human services confirmed the agency's involvement in Wednesday's operation.
"Without making reference to any specific search warrant, the overall mission of the U.S. Office of Inspector General for Health and Human Services is to fight waste, abuse and fraud in programs of Health and Human Services, such as Medicare and Medicaid," White said. "Also, many, many grant programs. HHS is the largest government grantor of all federal agencies."
Sheridan is also a downtown developer with several projects in the works. He is redeveloping the more than 100-year-old Gallagher Building, starting a restaurant called The Cove that will be located on the first floor of the Wick Building downtown and he is reopening a craft beer bar on the corner of Erie Terminal Place called the Youngstown Tap House.
Last week, the Trumbull County coroner ruled the death of Thomas Dailey, 46, who served as executive director and co-owner of Braking Point Recovery Center of Central Ohio, to be the result of an accidental drug overdose.
Toxicology results received by the coroner indicated the presence of heroin, fentanyl and cocaine in Dailey's system.
According to Braking Point's website, a location in Wooster is slated to open soon.
Between its Columbus and Austintown locations, Braking Point provides services such as detox, day treatment, intensive outpatient treatment, supplemental living rehabilitation, driver's intervention, counseling, medication-assisted treatment, and more, according to its website.
Contributors: Staff reporters Jordyn
Grzelewski, Kalea Hall, Samantha Phillips and Justin Wier
More like this from vindy.com