Students get high-tech calculators featuring software scripted by PSHS grad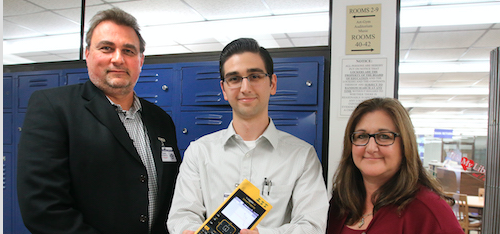 ---
POLAND
Just a few years ago, Cameron Dinopoulos was a student at Poland Seminary High School.
Now, the 22-year-old's work will be used in classrooms at PSHS to help students learn.
Dinopoulos, a 2013 PSHS graduate and 2015 Youngstown State University graduate, helped develop geometry software for Texas Instruments calculators. This week, teachers at the high school were trained to use those programs, and, thanks to a donation from Dinopoulos' parents, students soon will get to use them.
"It feels odd that my technology is now being taught to the teachers who taught me," said Dinopoulos. "It feels really good to be back here and give back to students whose shoes I was in four years ago."
While he was in high school, Dinopoulos took advantage of a program that allows high-school students to take college classes. He then went on to attend YSU as a college student, where he studied computer science. While he was at YSU, Dinopoulos connected with Tom Reardon, who contracts with Texas Instruments. Dinopoulos began working for him as an intern, and the two started to develop some ideas.
"Over time, the internship kept going, and it became my senior project in school," Dinopoulos said.
TI took an interest in one of their projects, which involved writing transformational geometry programming for calculators. Dinopoulos wrote the scripting for the software.
"These applications are aimed to be teaching aides for quick learning in the geometry classes," Dinopoulos explained. "It really puts the technology in the students' hands."
Proud of their son's accomplishments, Dr. Larry and Louise Dinopoulos decided to donate a classroom set of 30 calculators to PSHS.
"It's overwhelming," said Louise, of having her son's work used in classrooms.
"We're proud of him. And we're proud of this school district," added Larry, a board of education member who is up for re-election this year.
More like this from vindy.com