Fund for Warren's Future looks to better city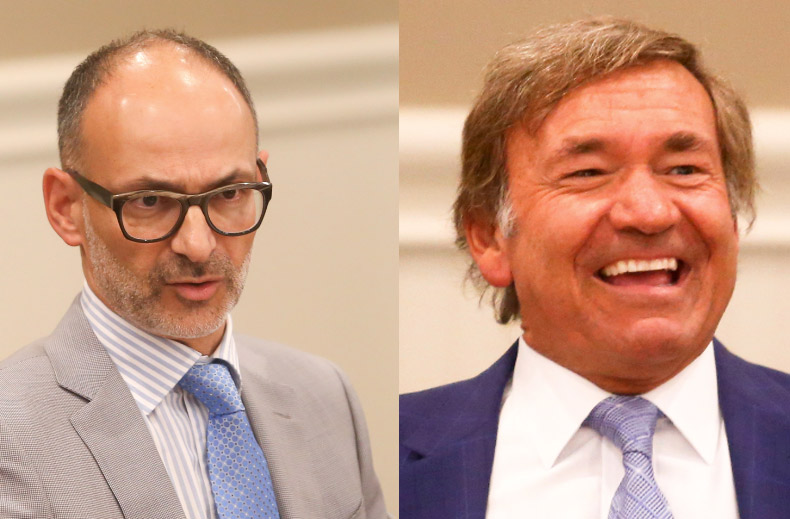 ---
By Kalea Hall
WARREN
For the betterment of the community, two one-time political rivals and two prominent business owners have come together to form the Fund for Warren's Future.
"Quite simply, it's a fund to assist with development projects that stimulate more [investment] in the city of Warren," Mayor Doug Franklin said during a fund kickoff event Tuesday.
"Today, it's crucial that my administration does not become complacent. We will continue to face our challenges head on."
The mayor and Dennis Blank, his 2015 mayoral opponent, came together over several months to develop the fund. They reached out to two local businessmen with Warren-based businesses – Anthony Payiavlas, president and CEO of AVI Foodsystems Inc., and Sam Covelli, CEO of Covelli Enterprises – to see if they would participate in raising funds to initiate, promote and support economic development in the city.
"They are two great minds," Payiavlas said. "Them working together is so unique in today's political environment. That's what really got my attention. Bringing business, the community and government together is really what it's going to take. Economic development is critical to the existence of Warren."
The funds, which will not be used as an investment opportunity for individual businesses, but will be distributed through nonprofits, will be managed by the Community Foundation of the Mahoning Valley. Projects that could receive funding will be selected by the fund's board: Covelli, Payiavlas and Franklin. Blank will serve as the board's administrator. All will serve as unpaid volunteers.
The city of Warren has invested $50,000 into the fund and, combined, Covelli and Payiavlas agreed to match the city's investment. Covelli and Payiavlas also agreed they will jointly match up to another $50,000 of contributions made by other individuals, businesses or organizations.
"I am glad to see that both of you are working together," Covelli said to the mayor and Blank. "It's great to kick start economic development."
The goal, Franklin explained, is to stimulate business activity in the city.
"We can be creative in how we assist businesses," he said.
For example, along U.S. Route 422 the city will be redoing the worn road. The fund could show off that investment to potential businesses to fill in some of the vacant buildings along the corridor.
"They will be projects where we can make the difference to make people want to invest money," Blank said.
More like this from vindy.com