Former traffic department worker accuses Youngstown of gender discrimination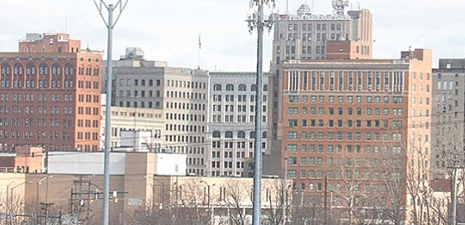 ---
By Justin Wier
YOUNGSTOWN
A former city of Youngs-town employee experienced gender discrimination and a "boys' club" atmosphere in the traffic department, according to a wrongful termination suit filed in U.S. District Court.
Carly Bowlen, who now lives in Nashville, worked for the city from December 2013 until May 2016. Most recently, she worked as a sign painter in the city's traffic department.
Many of the complaints involve her direct supervisor in the city's sign shop, who Bowlen claims treated her differently from her male colleagues including telling other employees, "It's a man's job," referring to women as "broads" and making comments such as, "All women are crazy."
In addition, Bowlen claims she was excluded from overtime and her supervisor said, "I only asked the guys." This continued even when Bowlen had the most seniority in the department, the lawsuit claims.
When Bowlen raised these issues to the supervisor, he said he was sick of listening to her whine, the lawsuit alleges.
The city provided a shower and locker room to male employees, but not to Bowlen, the lawsuit claims. It also says a wall was constructed between Bowlen's office and those of her male colleagues. While lights were replaced in the men's offices when they burned out, hers were not, the lawsuit says.
The supervisor also removed a TV from Bowlen's office while allowing men to continue watching TV at work, the lawsuit claims, and Bowlen had to drive the oldest and least-safe truck when vehicles previously were rotated among employees.
Bowlen attributes her post-traumatic stress disorder, depression and anxiety to the hostile work environment.
She asked for medical leave to get treatment or a transfer to another department and claims the city largely ignored her requests for accommodation, the lawsuit claims.
At a "disability separation hearing," the city determined Bowlen was unable to perform essential job duties due to her disabilities.
Bowlen does not believe the city attempted to contact her doctor in making this determination, according to the lawsuit.
Martin Hume, the city's law director, said the city never fired Bowlen and she was always offered the opportunity to return to work.
The city investigated Bowlen's claim, and the supervisor underwent training as a result, he added.
"We didn't do anything," Hume said. "We had a proper sexual harassment policy in place. We appropriately investigated all of her complaints and took appropriate action."
Personnel files for Bowlen and the supervisor were not available Monday.
In the lawsuit, Bowlen requests compensation including pay, future wages, retirement and other benefits and damages. She also seeks compensation for adverse health effects and an injunction requiring the city to reinstate her as an employee.
More like this from vindy.com
October 17, 2017 12:05 a.m.