Chaney High School graduates raise money for fellow 'cowboys'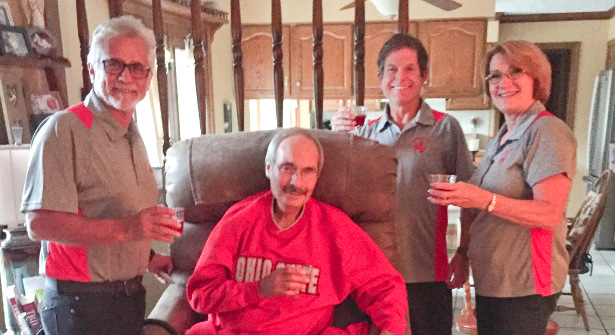 ---
YOUNGSTOWN
When Mark Moorhead found out he was the winner of a fundraiser organized by his former Chaney High School classmates, his first instinct was to wish that the money had gone to someone else who needed it.
As a veteran and former firefighter, Moorhead is used to putting others before himself. That's why the organizers of the inaugural Once a Cowboy Always a Cowboy golf outing were particularly happy to give the $6,500 they'd raised to him.
"Through his entire life, he's been helping somebody," said Joe Midlick of Boardman, whose idea it was to start the fundraiser. "It makes us feel even better that we're helping him."
Midlick, who retired a few years ago, knew he wanted to spend this chapter of his life helping others. One way he decided to do that was to bring together some of his former high school classmates to raise money for Chaney alumni or family members in need.
"What I wanted to do was keep the Chaney name going," Midlick said. "And in the same point, help somebody who graduated from Chaney."
The project began at first with Midlick's fellow 1970 graduates – and then grew. The OACAAC board includes alumni from the '70s, '80s and '90s. The group's first golf outing took place in August, and plans already are in the works to host a bigger outing next August. The organization started out with modest expectations, hoping to raise $4,000 and get 18 foursomes to play in the outing. Ultimately 22 foursomes played, and the event raised $6,500.
The board accepted applications from alumni and their families who were in need of help. The board members then went through a blind selection process.
Moorhead's wife, Eileen, found out about the fundraiser and applied.
Moorhead, a 1970 Chaney graduate, went on to serve as a Marine Corps tank commander. He served in the Vietnam War, then went on to pursue a career in the fire service. He retired in 2015 as chief of fire/emergency services for Goodyear Tire & Rubber Co. in Akron.
After a 41-year career, Moorhead was prepared to enjoy retirement. Just a few months later, however, Moorhead began to experience the symptoms of what was later diagnosed as diffuse systemic scleroderma, an autoimmune disorder that has affected Moorhead's entire body. The disease has caused scar tissue to form between his muscles and skin, affecting his ability to walk, talk and eat. His organs, too, are affected.
Treatment for the disease has been costly.
"We ended up with extensive bills that were not paid for by insurance," Moorhead said.
So, the help from his former classmates was "a godsend."
"I've never won anything in my life, and you could have blown me over with a feather," he said. "I felt like I won the lottery. It couldn't have come at a better time."
Aside from the money raised, OACAAC gave former classmates – many of whom are still close and stay in touch – a chance to revisit what made their days at Chaney so special.
Midlick and fellow board members Cathy Zimmerman and Dr. Joe Malys visited Moorhead's Uniontown home to deliver the check. What was supposed to be a quick visit turned into a trip down memory lane.
"We told stories about the West Side – how we grew up, where we grew up," Moorhead said. "Bonfires. Football games. Cars. Teachers. They were only going to drop the check off, and I think they were here 31/2, 4 hours. It was one continuous good time."
"I could not appreciate it more," Moorhead added. "I love my classmates. I love my school. I love Youngstown."
More like this from vindy.com