Struthers Rotary hosts Governor Mike Raulin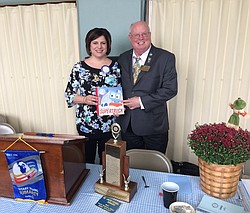 CONTRIBUTED PHOTO

Photo
Struthers Rotary president, Jennifer Johnson, presents District 6650 Governor Mike Raulin, with the book that will be donated to the Struthers Elementary School library in his name in appreciation for sharing his experiences and goals.
Staff Report
STRUTHERS
Struthers Rotary hosted Governor Mike Raulin at its Sept. 5 meeting. Raulin is a professor in the psychology department at Youngstown State University and began his tenure with Rotary after moving here from Wisconsin in 2003. He also spoke about his experiences and goals.
Raulin said that his goal for this term as district governor is to encourage members to "Explore, Share and Enjoy" and that Rotary should do the same. Explore can be done by visiting other local clubs and traveling to others around the country and the world and at district or international events. A person can also explore online or by reading the book "A Century of Service" by David C. Forward, which provides an overview of the role of Rotary in supporting projects worldwide.
Sharing Rotary is most easily done by inviting friends to attend meetings to see what Rotary does. Making sure activities are known in print and on social media helps promote the Rotary or by wearing a T-shirt or pin will provide the opportunity to share information and news about it.
Raulin expressed his hope that all Rotarians enjoy their contributions toward furthering the goals of the group. Rotary is part of a program that continually helps in changing the world for the better.
More like this from vindy.com