Cortland Oktoberfest blends beer, art and memories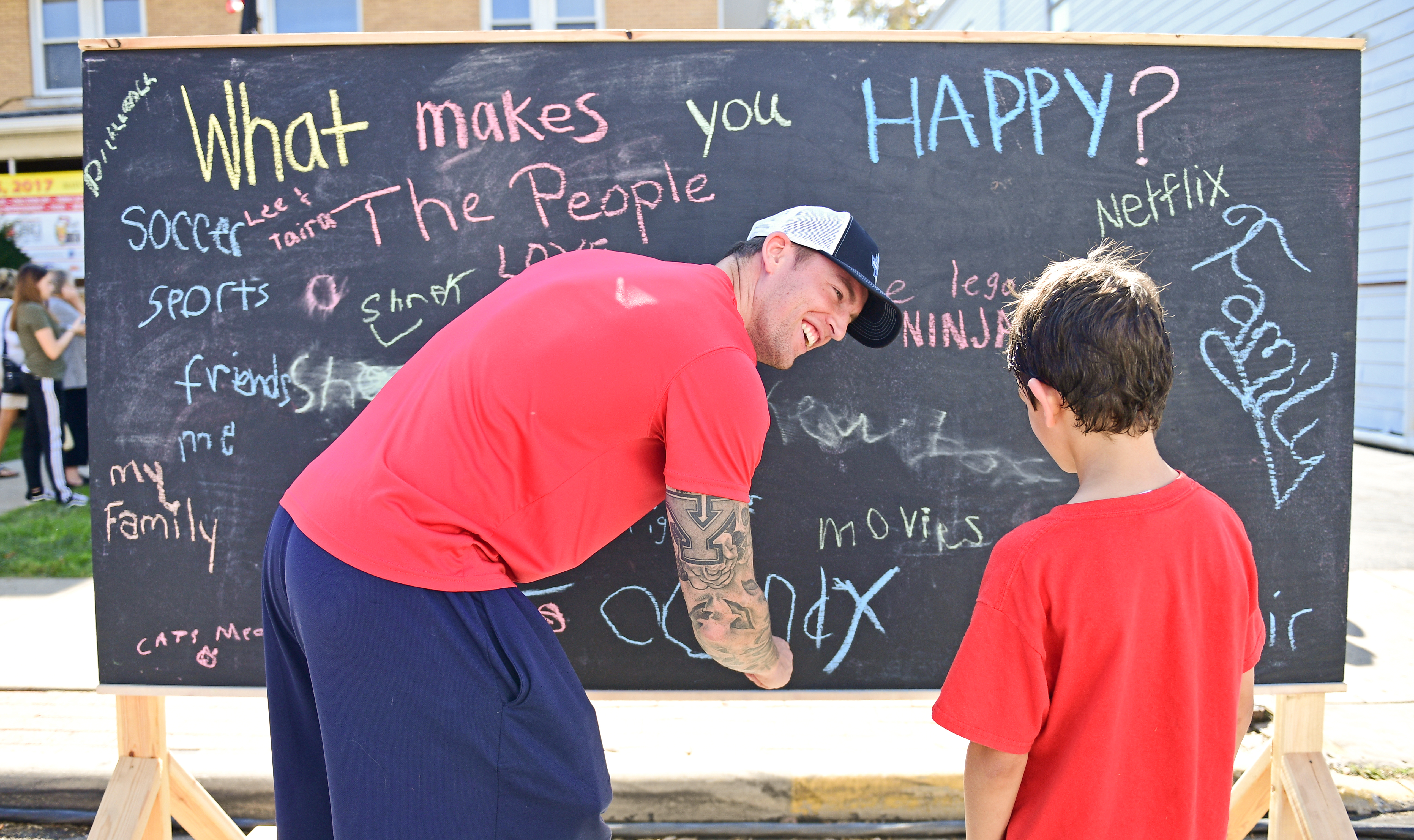 ---
By Jordan Cohen
CORTLAND
For Daynelle Sanner, this weekend's Cortland Oktoberfest, the first of its type in the city's history, has a three-fold purpose: a very personal memorial, a celebration of art and, of course, beer.
Sanner, 37, a former Cortland resident, became the driving force behind Oktoberfest as a tribute to her late brother, Jarrett Hutton, a well-known local artist who died in a tragic accident at his Bazetta home in July 2016 at age 32.
"He died doing what he loved, and with [Oktoberfest], we can spread his mantra," Sanner said, adding that proceeds from the weekend will go to the Love Life Arts and General Scholarship Program for distribution to students.
Sanner said city and community service groups immediately supported her idea. "People said, 'Let's do it,' and we have, she said as she surveyed the large turnout under Saturday's sunny skies and summer-like temperatures.
Art in its various forms is on display throughout the festival, including photography, music and dance performances. For this weekend, North Bank Street has been dubbed "Art Alley" and lives up to its name. Inside a large tent, children and young adults can indulge in seven different arts and crafts.
"I'm enjoying all the art the kids are creating," said Nick Cowger, 18, a Youngstown State University art major from Maplewood. "Everything they create is unique."
Raegen Stack, a Lakeview High School senior, painted the words "Vanilla Twilight," the name of a favorite song, on a piece of river rock.
"I think it's a great thing for families, and it's right here," she said. Raegan lives on North Main Street, walking distance from the displays.
The emphasis on family fun was clear throughout the daytime hours. Terry Ross of Connellsville, Pa., took on his 11-year-old son Gage in a game of pumpkin checkers in which a large checkerboard with miniature pumpkins serving as checkers was placed on hay bales. "I'm winning," said the elder Ross, much to Gage's chagrin.
David Harper of Bazetta, a machine operator by trade, showed his artistic skills as a wood carver, creating lifelike bears and other animals from chopped tree trunks.
"I saw someone doing this at a show and thought I'd try it," he said. Despite his apparent skills, he considers carving a hobby.
Saturday evening, the focus turned to the favorite libation of any and every Oktoberfest – the one made from malted barley and hops.
"We have 15 different craft beers in competition," Sanner said. But unlike similar festivals, there is no special panel of judges. "This will be decided by people's choice," she said.
Today, Oktoberfest features a chili cook-off as its main event. Although forecasts call for threatening weather, Daynelle Sanner said regardless of the elements, the first Cortland Oktoberfest is already a success and will return next year.
"It's a great turnout, and we're very happy," she said.
More like this from vindy.com