Open enrollment, Colaluca, dominate Austintown Board of Education race
By Justin Wier
AUSTINTOWN
Austintown School Board candidates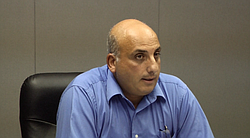 Video Set
Concerns about Austintown Local School District's open-enrollment policies and Superintendent Vince Colaluca's leadership loom large over the district's school board race.
With three of five seats up for grabs, and only one incumbent running for re-election, the board's composition could change significantly.
Nearly every candidate expressed a desire to alter the district's open-enrollment policy, which has galvanized opposition to Colaluca.
The school district currently admits about 725 students through open enrollment, which is the highest number in Mahoning County – though other districts have significantly greater percentages of open-enrollment students.
Critics say the influx has led to disciplinary and academic problems, while the school district has released statistics showing no significant impact.
Omar Jadue, 51, a nuclear engineering specialist for FirstEnergy running for public office for the first time, said he's not against open enrollment, but he would like to see a better accounting of the pluses and minuses, which the district hasn't delivered, before making a decision.
In his personal experience, Jadue said most open-enrollment children are net-pluses, but it's not clear whether they outweigh the other students.
"Is it worth the hassle?" he asked. "It's hard to say not having a complete set of info."
Kimberly Smrek, 50, a self-employed accountant, is running for the first time as well. She did not participate in an endorsement interview with The Vindicator. However, in a questionnaire, she advocated for reaching a comprehensive understanding of all aspects of the program to better assess the value and communicate it to the community.
Robin Krempasky, 54, a retired teacher, and David Daichendt, 54, vice president of operations at a Warren computer and networking firm, both running for the first time, want to see the number of these students greatly reduced.
Both candidates cited a report by state Auditor Dave Yost that claimed the district loses about $25,000 through open enrollment and recommended reducing the number of open-enrollment students to 125.
"I believe it's being mismanaged," Daichendt said. "It's being used as a crutch to fund the school system."
Krempasky allowed that open-enrollment students were about as likely as resident students to cause problems during her 30 years as a teacher, but said the policy was to blame for at least some of the 365 students who are leaving the district.
"We're losing our children because we have all these extras coming in. That's unfair to the community," Krempasky said. "Austintown comes first."
Don Sherwood, 42, a financial adviser running for the first time, said he's "not an anti-open-enrollment guy at all" but also cited the auditor's report and questioned the number of students leaving the district.
"I see a scenario with more and more kids leaving the district," he said. "I think it's a shame."
Kathy Mock, 64, a retired teacher and the lone incumbent, voted in favor of maintaining open enrollment, but she said the district closed open enrollment to grades 9 through 12 this year and capped total enrollment at 23 students per teacher. She's open to taking another look, but said scaling back to the extent the auditor recommended would result in significantly fewer teachers and less programming.
It also raises money for the district – $2.4 million on net – and while Mock said she would prefer not to participate in open enrollment, she said the board is doing the best it can with a community that has voted against a levy.
The other issue dominating the race is the leadership of Colaluca.
The school board voted to grant Colaluca a three-year contract extension despite a petition with more than 2,000 signatures opposing the extension.
"He has undermined his credibility with the community," Jadue said.
Though he added Colaluca is trying to do the right thing and he isn't running to oppose Colaluca, his goal is to improve the schools.
Krempasky questioned where Colaluca's loyalties lie, noting that he resides in Boardman.
Daichendt doubted Colaluca's management skills.
Sherwood drew attention to his leadership, describing a "toxic environment" among teachers.
Krempasky and Daichendt both suggested the board defers to Colaluca.
"[The board] doesn't listen to the community," Krempasky said. "They listen to Mr. Colaluca. You have to listen to your community. It's not a dictatorship."
"It's not his fault he gets away with and does the things he does," Daichendt said. "It's the board of education's fault for not properly managing him."
Mock, who voted for Colaluca's contract extension, said the superintendent may have weak communication skills, but those are improving and he has a great knowledge of curriculum, instruction and technology.
"Vince is a good visionary person," she said. "He's not afraid to take risks."
She said the board evaluated the superintendent and determined extending his contract was in the district's best interest.
The opposition to Colaluca and the board's extension of his contract despite opposition in the community led two people to form "Flip the Austintown Board of Education," a Facebook group with more than 600 follows.
The group intends to seize upon the opportunity to win three seats and has endorsed Daichendt, Jadue, Krempasky and Sherwood, though only Daichendt and Krempasky have participated in Facebook Q&As and a public forum held by the group last month.
Despite the criticism lobbed at Mock and her fellow board members, she said she doesn't have an agenda.
"My heart is in this because I'm an educator by trade," Mock said. "I couldn't not run. It's my passion."
The Austintown Council of PTAs will have a forum with all candidates at 6:30 p.m. Oct. 24 in the Austintown Fitch High School Auditorium.
More like this from vindy.com