Lakeview the top dog after beating undefeated Poland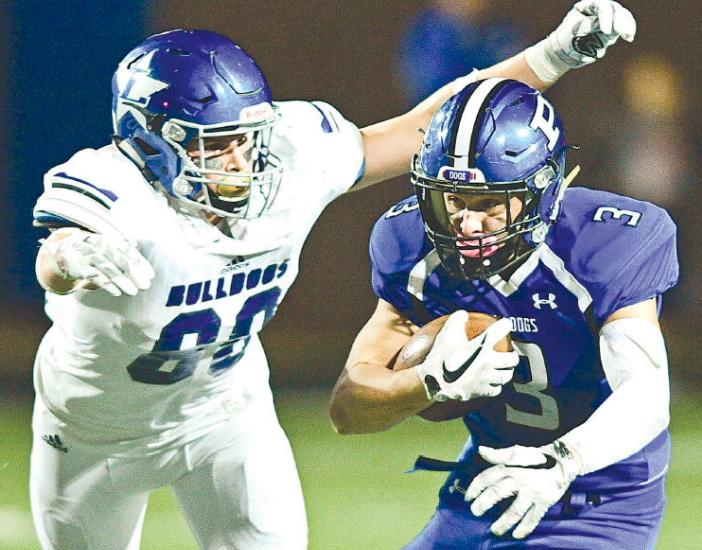 ---
Poland's undefeated season ends
By Brian Dzenis
POLAND
Lakeview's football team knew it did something special Friday night.
It wasn't just rallying from a two-score deficit to beat undefeated Poland 35-30. It was winning that gem of a game at a place that's special to Lakeview coach Tom Pavlansky.
"I don't think I've ever seen him this happy," quarterback Zach Rogers said. "He's always pretty pumped up after a big win, but this one, I know it meant a lot to him."
Poland plays on Dave Pavlansky Field, named after Tom's late father. Dave, who is the father of four area high school coaches, was a Poland football coach who died of cancer in 1978. He was 41.
Tom kept his emotions in check after the game, but he briefly paused when asked what his father would think of Friday's contest.
"I think my dad would be proud of how hard we played, how we played together and how much we loved each other," Pavlansky said.
Poland (7-1) seemed poised to turn game into win No. 8 as the home side built up a 23-7 lead that held up until the final minute of the half. Rogers hit Noah Olejnik for a 55-yard touchdown pass with 44 seconds left. Then the visitors turned into a different team.
Rogers deserves credit for the victory, throwing for 272 yards with one rushing and passing touchdown apiece. But to win the game, the ball was out of his hands. Lakeview went to the wildcat to complete the rally.
"It really helps out a lot. It takes pressure off me. It helps me relax and gets the defense thinking differently," Rogers said. "We run, then we give the ball back to me and we throw and catch them where they don't want to be."
In the first series when Lakeview busted out the formation, receiver Evan Adair was at QB and Rogers was acting as a tight end. Adair broke off a 67-yard touchdown run. Adair rushed for 102 yards and three touchdowns in the win — most of the yards and all three scores were in the second half.
"We just weren't ourselves in the first half," Adair said. "We came out, we got our heads straightened on and got the job done."
With the score tied at 23, Lakeview mounted a 21-play, 93-yard drive that stretched from the end of the third quarter well into the fourth. That drive featured two fourth-down conversions. One was a fourth-and-10 at Poland's 24, when Rogers evaded pressure to get the ball to running back Tony Crish. Only problem? Crish was 10 yards short of a first down and he had a defender bearing down on him. The defender dove, Crish spun free and got the 10 yards.
"Tony made a nice move. Tony's a solid player and I love that kid," Rogers said. "I know I can trust that kid to catch the ball on fourth and 10 — 10 yards from a first down — and still get the first down."
The second fourth down was a fourth-and-1 at Poland's 4 and Adair earned his second rushing touchdown. Lakeview had its first lead, but Poland blocked the extra-point attempt.
So when Poland responded with Dante Romano's 10-yard touchdown run, the extra point gave Poland a one-point lead with 6:21 to play.
Lakeview went to the wildcat again and Adair scored the go-ahead touchdown two minutes later. But his biggest play came on defense.
Poland faced a fourth-and-7 at its own 46 with a 1:02 to play. Poland quarterback Cole Kosco threw to his right near the sideline, but Adair stepped in front of the receiver to bat the pass down.
"When he took that snap, I saw [Kosco] look directly at that guy," Adair said. "I knew the ball was going there and I made a play."
Kosco threw for 158 yards and a touchdown for Poland, but when he was intercepted late in the second quarter, he seemed out of sorts. He completed just two more passes for the rest of the game.
"He didn't make a couple of throws and it got us off-schedule," Poland coach Ryan Williams said. "We're set up to where we run the ball and then get into the play-action pass, we miss some guys and then we're playing catch-up."
Jonah Spencer rushed for 153 yards in defeat.
As Lakeview took a knee to end the game, Pavlansky sent out his freshman son, Stephen, with the team so that he could be on his grandfather's field for the win.
More like this from vindy.com