Jack Zizzo comes home to share his craft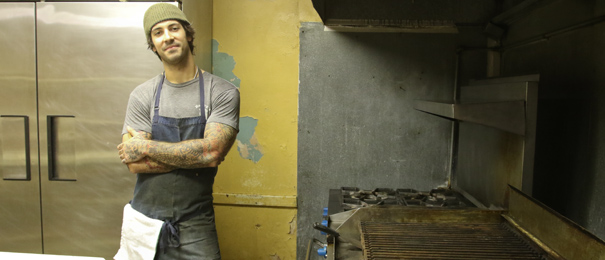 ---
By KALEA HALL
khall@vindy.com
YOUNGSTOWN
Space Kat BBQ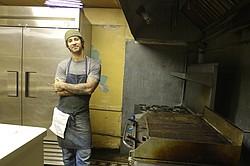 Video
Youngstown native Jack Zizzo learned tips and tricks of the BBQ business in Texas. Now, he's opening Space Kat inside The Draught House.
At first, Youngstown native Jack Zizzo was disheartened, watching his friends go to school to get their degrees.
He wasn't exactly sure what he wanted to be when he grew up.
"The whole time it was right in front of my eyes," Zizzo said.
That "it" was food.
Zizzo is a 28-year-old chef who spent years traveling the U.S. learning the ins and outs of the restaurant world. Now, he has come back home to share what he learned at his Space Kat restaurant inside The Draught House, downtown.
Space Kat, opening for dinner Tuesday, will have something for everyone: omnivores, vegetarians, vegans.
"I fell in love with [cooking] over time," Zizzo said. "I consider cooking a craft. It's a very special feeling. Cooking food for a living is hard, but there's little wins in it."
The little wins come in sharing the craft with customers. Zizzo has honed his craft with experience in Italian, French and barbecue restaurants.
From inside a dimly lit Draught House at a table where customers have etched their names and messages, Zizzo explains his plan for Space Kat.
Since it's his first on-his-own experiment, he wanted the name of the restaurant to symbolize that.
"They used to send animals into space," he said. "I am definitely going to be pushing my limits."
He also wanted the restaurant to give off a funky cool vibe.
"The more you get to know me, that's totally me," Zizzo said. "I wanted it to be me."
Space Kat will have a heavy emphasis on smoked meats. Zizzo had a smoker custom made that he brought up from Texas.
"The goal is to make it extremely juicy so it doesn't need sauce," Zizzo said. "We like to do just a dry rub."
There will be Asian ingredients to accompany the meats and smoked chilies on the menu.
"I am going to try to cook with the seasons as best I can; I want to have something for everyone," he said.
There will be probably six to seven items on the menu at a time, and the menu will rotate often.
Customers of Space Kat will order and pay at a service window that's at the back of The Draught House.
"He had a great idea," said Jordan Klucinec, owner of The Draught House. "I think it will be good. I hope he's very successful."
Zizzo has worked as a waiter, dishwasher and cook. He started restaurant work here in Youngstown.
"When I decided to take cooking seriously, I moved to Brooklyn when I was 23," he said. "It was a very enlightening experience. I stuck it out for about a year."
Zizzo moved to Austin, Texas, where he attended Auguste Escoffier School of Culinary Arts.
"I just needed to tighten up my game," he said. "They teach you regional cuisine. It's not enough time to really grasp it, though. It's up to you to grasp it yourself. School was [about] learning the business side of it and learning the technical aspects to it."
The school was big on sourcing food locally and responsibly, which is something Zizzo wants for Space Kat.
"I am going to try to get my hands on as much local produce as possible," he said.
After school, Zizzo worked for a well-known pit master at La Barbecue in Austin. He worked his way up to head pit master there.
"The most important part is to learn how to butcher the proteins and how to trim them properly," he said. "I learned how to maintain a fire and how to build a proper fire."
He also learned how intense of a process barbecuing really is.
"Everyone thinks barbecuing is so easy, but it is probably the busiest you'll ever be cooking," he said. "It's a very personal experience. You develop a relationship with the smoker."
After his La Barbecue experience, Zizzo went to work for a chef who inspires him, Bryce Gilmore at Barley Swine in Austin. The restaurant opened in 2010 with a commitment to support farmers and ranchers in the region.
"The things he has done have been an inspiration to me to do something special and something different people would like," Zizzo said.
That's what he hopes to do with Space Kat, one of several new restaurants popping up downtown.
"I am happy to be a part of it," Zizzo said of the development. "I think it's great for downtown."
More like this from vindy.com