Campbell students help stock shelves for school food pantry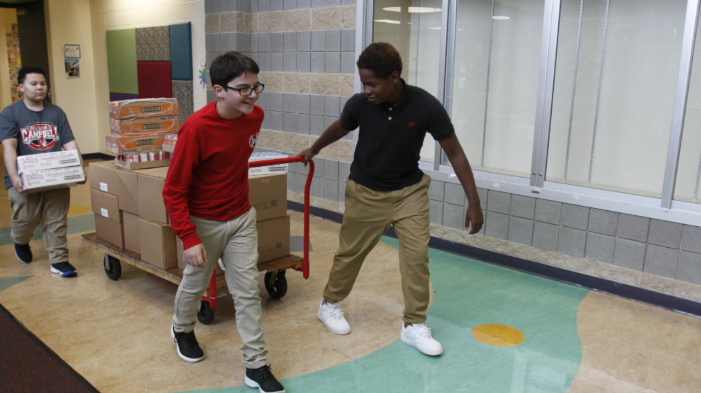 ---
CAMPBELL
A handful of middle-school students lugged a pallet jack loaded with food items through the halls of Campbell K-7 School and, as they passed through the cafeteria, earned a roar of attention from their classmates.
The students continued down the hall, eventually stopping outside a room lined with shelves where they began unloading the food items.
This food collection, unlike others the schools often participate in, is to help care for the 200 students at Campbell K-7 who have indicated they are in need of food assistance.
"Kid-friendly" items such as macaroni and cheese, Chef Boyardee meals, soups, cereals and granola bars are kept at the pantry and are given to students in need to keep them sustained through the weekend. Each weekend bag includes two breakfasts, lunches and dinners, as well as snacks.
Karen Paradise, a crisis-intervention specialist for the Campbell school district, led the group of students unloading the truck. She said the food was provided by Second Harvest Food Bank of the Mahoning Valley and would serve a group of 200 students who had applied for the assistance.
Angeleah Matzye, 12, was one of the student helpers unloading boxes and guiding the pallet jack through the halls of the school.
She said her teacher asked her and another student to help with the pantry, so she and a friend recruited a group of their classmates to participate in the unloading.
"It's important that we got to help. It's a really good feeling that we can help people who need food," she said.
Food pantry programs serving the needs of students are unfortunately not new or novel; Michael Iberis, executive director of Second Harvest Food Bank, said there are eight other school food-bank programs throughout the region – the Boardman Center Intermediate school and Warren G. Harding High School to name a few – for which the organization helps provide food.
"More than 50 percent of students in Mahoning County are eligible for free or reduced-price lunches," he said. "Every year, the need for these programs seems to be increasing."
Parents whose students are in the Campbell school district and are interested in learning more about the program or are in need of food assistance can contact Karen Paradise at the school.
More like this from vindy.com