Polish, community celebrate National Pirogi Day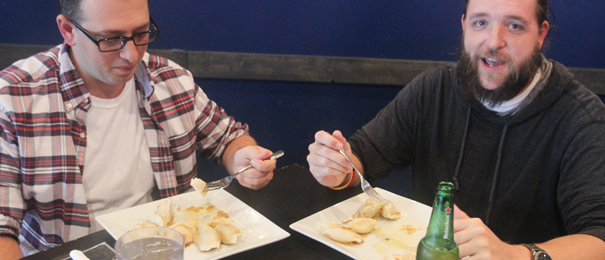 ---
By WILLIAM K. ALCORN
alcorn@vindy.com
YOUNGSTOWN
Polish Youngstown, a group dedicated to preserving Polish heritage, celebrated National Pirogi Day in a big way Thursday afternoon and evening by offering the so-called Polish dumplings to a big crowd of Polish and Polish-for-a-day folks at The Federal restaurant and bar, downtown.
"The line was out-the-door at lunch time. We had to go three times to get more pirogies," said Aundrea Cika, Polish Youngstown director.
Even at that, the pirogies proved to be so popular that Sophia Martini, who served them up 12-to-a- platter, was running out of the delicacy, except for the staple potato variety by 6 p.m. The event ran from 11 a.m. to 9 p.m.
Polish dumplings, variously spelled pirogi, pierogi, pyrogy, perogie, perogi, pirohi, piroghi, pirogen, pierogy, pirohy, and pyrohy, are obviously enormously popular in the Mahoning Valley. Most people agree that pirogies came to the United States at the beginning of the Great Depression.
During the feast at the The Federal, pirogies – a case of dough with a savory filling, cooked by boiling and then pan-frying – were offered filled with chicken, blueberries and cabbage, along with the favorite potato, sauerkraut, meat and cheese fillings.
"It's the national food of Poland, and it's been adopted by everybody. Who doesn't love a good pirogi?" asked Cika.
Several patrons interviewed answered her rhetorical question.
"It's a great meal. They were very good," said Laurie Fergus of Boardman, who enjoyed the cabbage, potato and blueberry varieties with a glass of chardonnay.
Laurie was accompanied by Joan Fergus of Canfield, who said she "really liked" her pirogies filled with potato and cheese and her Apple Pie Vodka drink.
Friends Linda Gruber of Youngstown and Gary Fitch of Campbell, who like to go dancing together, said they saw the ad for the event and decided to visit The Federal.
Gruber, who is part Polish, said she learned to make pirogies from her grandmother, Amilia Mushinski, whom Gruber said would make 1,000 at a time – enough for the whole family.
Fred and Melanie DeLuca of Boardman came downtown to eat before the Ursuline High School football game and found the pirogi celebration by accident. "They were very good," said Fred, who particularly liked the ones filled with potato and cheese.
Brenda Pringle of Girard and her son, Scot Pringle, took pirogi orders home for the whole family. "We're going to have a Polish weekend," said Brenda.
The celebration Saturday, in addition to being National Pirogi Day, was also Polish Youngstown's 10th anniversary.
Dan Martini, owner of The Federal, and the Marta Mazur Krakus Polish Deli on Market Street provided the pirogies: "Marta did the pinching and Dan did the cooking," Cika said, with a laugh.
Cika predicted that some time during the happy hour from 6 to 8 p.m., The Federal patrons would break into song, singing "Sto Lat," a Polish tribute song sung for special occasions such as birthdays and anniversaries.
More like this from vindy.com