Boardman library treats children with three different Puppet Tales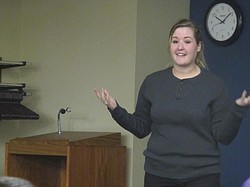 Photo
Neighbors | Zack Shively .Amy Burkard prepared the children to get ready to perform "Head, Shoulders, Knees, and Toes" at Boardman library on Aug. 16 as a part of their Puppet Tales event.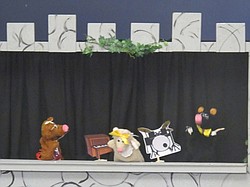 Photo
Neighbors | Zack Shively.Three bears rocked out during Boardman library's Puppet Tales rendition of the book "Goldi Rocks and the Three Bears" on Aug 16.
By ZACK SHIVELY zshively@vindy.com
Boardman library gave children a treat with three different tales told through a puppet show.
Librarians John Yingling and Amy Burkard stepped behind a cardboard stage made to look like a castle. They put the puppets on their hands and delivered stories for the group of children sitting on the floor in front of the cardboard castle. They also had a music player set up behind the stage for their last story. Yingling and Burkard's performances through all three tales made the children laugh because of their exaggerated gestures and timing.
They first acted out the tale "That's good! That's bad!" The performance told of a boy who gets lost from his parents and goes into the wild and meets a number of different animals. The boy does things like riding down an elephant's trunk and getting carried away by a bird. These occurrences lead him to finding his parents at the end of the story.
Then, they performed a story called "Waking Beauty," a play on the classic Sleeping Beauty tale. This version of the story does not have an evil witch or poison apple, but instead opens with the prince, the beauty and three fairies. The fairies try to convince the prince to kiss the girl, but the prince does not quickly realize what they are telling him. For example, one fairy's rhyme ends in, "give her some lip," so then the prince yells at her and tells her to wake up.
The final story was another revision on a classic tale. In "Goldi Rocks and the Three Bears," Goldi breaks into the three bears' recording studio. The story replaces porridge and beds with headphones and musical instruments. Goldi lets out a loud scream once awakened by the bears, leading them to ask her to join their band.
Burkard walked out from behind the stage to lead dances in between each tale. The group first danced to "Head, Shoulders, Knees and Toes." Burkard sang the song faster each time they finished it. The children laughed as they tried to keep up with the tempo on the fifth time through. They did the "Hokie Pokie" between the second and third tales. At the end of the show, the children played with the puppets and went behind the stage.
Boardman library does not hold puppet shows often, usually only twice a year. Each of the tales performed are available to check out at the library.
More like this from vindy.com