Auto Parkit owner still committed to project, despite delays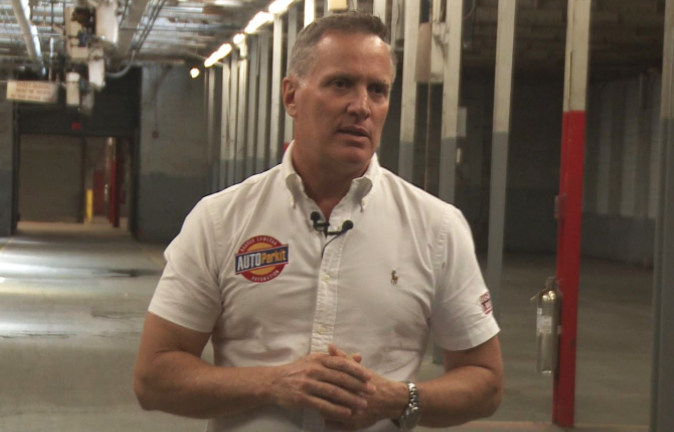 ---
Staff report
WARREN
The Warren native who has started to relocate his automated-parking business to the former Packard Electric facilities on Dana Street invited city officials to the plant Wednesday to talk about roadblocks.
Christopher Alan, owner of Auto Parkit, explained how the legal action filed by Sergio DiPaolo, owner of the buildings, has forced Alan to halt some of the rehabilitation work he has done on the facilities.
He restored electricity, lighting and bathrooms and put 180,000 square feet of the facility back "under roof," Alan said. He has 10 engineers and other professionals working out of a small building on the property, and he has spent $1.8 million.
But the legal roadblocks DiPaolo have put in front of Alan have prevented him from completing the rehabilitation, he said. Alan's lawyers have advised him not to make physical changes to the facilities while legal action is pending, he said.
Meanwhile, another type of roadblock has cropped up – the concrete barricades the city placed on Dana Street at either end of the facilities Alan leases from DiPaolo. The barricades are intended to reduce the amount of vandalism to the facilities, but some believe they may present a legal liability.
Recently a man suffered serious injuries when he drove an all-terrain vehicle down Dana Street at night, hitting a barricade hard enough to break it. The man is charged with drunken driving and other offenses.
The crash caused some to question how long the barricades will be there and whether the Auto Parkit project is in trouble of moving forward.
Alan assured the half-dozen members of Warren City Council and other city officials present he was committed to the site.
"What I think he needs at this point is a degree of patience," Warren Mayor Doug Franklin said of Alan.
A bigger complaint than the barricades is the piles of concrete and vegetation strangers have dumped on a former Packard Electric parking lot near Bank Street, said Enzo Cantalamessa, safety-service director.
Ray Manofsky, a Bank Street resident, told Alan he supports what the businessman is doing to restore jobs to the site, but he wants to see employees' cars on that lot, "not junk and concrete."
More like this from vindy.com