Saving one from daughter's fate is mom's goal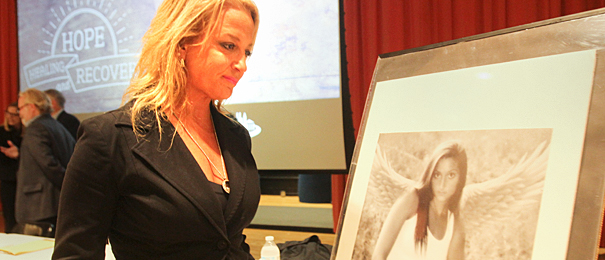 ---
RELATED: Report: Toddler overdosed, had oxycodone in bloodstream
By WILLIAM K. ALCORN
alcorn@vindy.com
MINERAL RIDGE
Sierra Giovannoni Roberts was found beaten, naked and dead on Warren's West Side on June 27, 2014. She was 23.
Sierra would have celebrated her 27th birthday last Friday, one of the days of the year, along with Mothers Day, that Sierra's mother said she misses her the most.
"Parents, that is not the call you want to get; kids, that's not the call you want your parents to get," said Amy Giovannoni of Mecca, telling her compelling story to an audience of 150 to 200 Wednesday at Mineral Ridge High School during an informational event about the opioid crisis.
The "Hope, Healing and Recovery" forum, hosted by the Mahoning Valley Association of Churches, featured panelists from several agencies, law enforcement and churches.
"Without my connection with God, I would not be here. If I can save one person, Sierra's soul is renewed," Giovannoni said.
Sierra got hooked on prescription pain pills for four months, recovering from scoliosis (curvature of the spine) surgery, but her mother did not realize she continued to use pain pills for years.
"She was an A-B student, an athlete and worked a job to pay for her car insurance. I had no problems with her," she said.
But as she realized the seriousness of her daughter's problem, she turned her in to police, believing that if she were in jail "at least she was safe."
To kids in the audience, Giovannoni pleaded: "Please don't think you are better off dead. If you believe in a higher power, and combine it with your power, you will live life to the fullest."
Opioid abuse is a subject that seems to get less attention than it should, said Lauren Thorp, director of youth services and the Alliance for Substance Abuse Prevention for the Trumbull County Mental Health and Recovery Board.
"We are at the epicenter of the crisis," said Thorp, one of several panelists.
Because many children get addicted to prescription drugs, Thorp urged parents and grandparents to properly dispose of unused drugs.
She said parents are one of the biggest influences in keeping kids off drugs, and said there is hope, a thought presented by several of the panelists.
"Treatment does work and there are hundreds of thousands of people in recovery," Thorp said.
"We need a cultural change to stop addiction," said Nick Ceglia, instructor in the Behavioral Health Institute at Mercy Health Youngstown Hospital.
"There is not a single solution to addiction. This is a moral test for America," he said.
The Rev. Darryl Rodgers, coordinator for the Trumbull County Drug Court, said the majority of people he sees in his court "come tired and broken and hopeless about a future for themselves. Many are unemployed, dropped out of school and, quite frankly, got in with the wrong crowd."
"We have to be pro-active for the 12 to 18 months that we have them and see if we can get them on the path to recovery. It's not so much how they finish. Addiction is a disease. If you learn how to manage it, you can still succeed in life," the Rev. Mr. Rodgers said.
The Rev. Dr. Robin Woodberry, assistant pastor at New Bethel Baptist Church and executive of the Mahoning Valley Association of Churches, said that as a community of faith, we need to care about what is happening in our community and our churches. They sit in our pews and drugs negatively affect our community.
"Number one, we have to care; and number two, we have to do something about it and offer hope," she said.
"We hope to educate the general community and the community of faith," said Stephanie Smith of the Church of Jesus Christ of Latter-day Saints, whom Dr. Woodberry called the "visionary" who brought the forum to reality.
"We need to understand the opioid epidemic and recognize there is hope for recovery," Smith said.
More like this from vindy.com