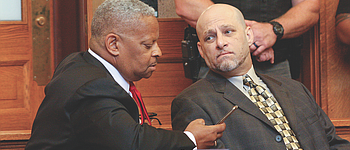 Jury selection begins in Hamad aggravated murder trial
Published: 10/12/17 @ 12:10
By Ed Runyan
WARREN
Less than nine months after a deadly confrontation in front of Nasser Hamad's home along the busy state Route 46 commercial corridor near Eastwood Mall, jurors are being selected in Hamad's aggravated-murder trial.
The selection process began Wednesday morning in the Trumbull County Courthouse with introductory remarks from Judge Ronald Rice of Trumbull County Common Pleas Court to the 173 prospective jurors called for the case.
Judge Rice explained the prospective jurors' obligation to avoid any news coverage of the trial, to stay away from social media and to otherwise refrain from activities that could jeopardize their ability to serve impartially on the jury.
Because the death penalty is a possibility in this case, an especially large number of jurors were summoned for the case compared with most other murder trials. Jury selection, which will begin in earnest today, is likely to take about a week.
Most jurors Wednesday were only required to fill out a questionnaire, but those who sought to be excused from the case were asked about their reason for wanting to be excused.
Starting this afternoon, prospective jurors will be questioned by prosecutors and defense attorneys under the supervision of Judge Rice in an effort to seat 12 jurors and four alternates.
Trial testimony, likely to begin next week, is expected to take about three weeks.
In addition to be a potential death-penalty case, it is also high profile for other reasons, including the busy commercial location where the shootings took place Feb. 25 with numerous people witnessing the shootings and aftermath.
It also has drawn attention because of the bold personality of the defendant.
Hamad, 48, a businessman, confronted a prosecutor in the case during his arraignment in March, asking Assistant Prosecutor Chris Becker if he is a "Zionist Jew." One of Hamad's attorneys and some Hamad supporters have suggested that anti-Muslim sentiments have played a role in the conflict.
Protesters staged a demonstration near the intersection of High Street and North Park Avenue starting about noon Wednesday.
Judge Rice set specific limits on where protests could be held, excluding the area along High Street from Mahoning Avenue to North Park Avenue and within a 50-foot perimeter of the courthouse.
Prosecutors and Howland Township police have said two young men died and three other people were injured by gunfire after a fist- fight in front of Hamad's house.
Those killed were Joshua Haber, 19, and Josh Williams, 20, of Woodbine Avenue.
Those injured were Bryce Hendrickson, 20, John Shively, 17, and April Trent-Vokes, 42, who police say drove the four men to Hamad's home.
The confrontation stemmed from a monthslong feud involving Hamad and the family of his girlfriend, Tracy Hendrickson, who had left her husband to live with Hamad.
The five people who went to Hamad's house Feb. 25 were all related either by blood or marriage to Hendrickson.
Her son, Bryce Hendrickson, was shot in the face but survived.
He was on the witness list for the trial, but he died in a home in McDonald on Sept. 30.
Police suspect his death and that of a woman with him were the result of a drug overdose.
Subscribe Today
Sign up for our email newsletter to receive daily news.
Want more? Click here to subscribe to either the Print or Digital Editions.