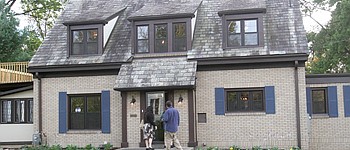 YNDC opens doors for rehabilitated historic home
Published: 10/11/17 @ 12:06
YOUNGSTOWN
It took the combined efforts of the Youngstown Neighborhood Development Corp. and the city to wrest control of an abandoned home along Glenwood Avenue away from a negligent previous owner.
After months of renovations, the YNDC hosted an open house Tuesday for the reclaimed property at 3726 Glenwood Ave. on the city's South Side.
The historic five-bedroom, 3,663-square-foot home – built in 1929 – is the largest home the YNDC has rehabilitated for resale. Listed for sale at $150,000, the brick house is situated along the edge of Mill Creek Park and overlooks Lake Newport.
The home has an attached two-car garage, a fireplace in the living room, a backyard deck, a second-floor balcony deck and an attached mother-in-law suite in the back.
The YNDC updated much of the house, including the windows, boilers, lights, paint and hardwood floors, and installed new countertops.
Tiffany Sokol, YNDC's housing director, said rehabilitating the house was an important part of the group's broader efforts in the neighborhood.
"It's a major asset along Glenwood Avenue," she said. "We've been focused for a long time on revitalizing that corridor."
YNDC acquired the home through the city's use of spot-blight eminent domain, a power that allows the city to take ownership of individual, abandoned properties.
The city gained control of the home from Harbour Portfolio Advisors, a property company that bought up foreclosed homes in the wake of the 2008 economic crisis and resold them to individuals with low-income using land contracts with high interest rates. The homes they did not sell sat abandoned and without maintenance.
The New York Times reported in April the city of Cincinnati was suing Harbour Portfolio Advisors over predatory lending practices, and in July the Atlanta Journal-Constitution reported the company was being sued in federal court by a group claiming Harbour Portfolio had led them to believe they were going to be home- owners but lured them into contracts that effectively made them renters.
Out-of-town homeownership by individuals and real-estate companies has been a constant hurdle for the city and groups such as YNDC and the Mahoning County Land Bank to overcome in their blight-reduction efforts.
Once the ownership of those homes is relinquished, the city or affiliated organizations can move to demolish or rehabilitate the property. In this instance, the YNDC chose rehabilitation.
Subscribe Today
Sign up for our email newsletter to receive daily news.
Want more? Click here to subscribe to either the Print or Digital Editions.