Overflowing with fall seasonals at Pour House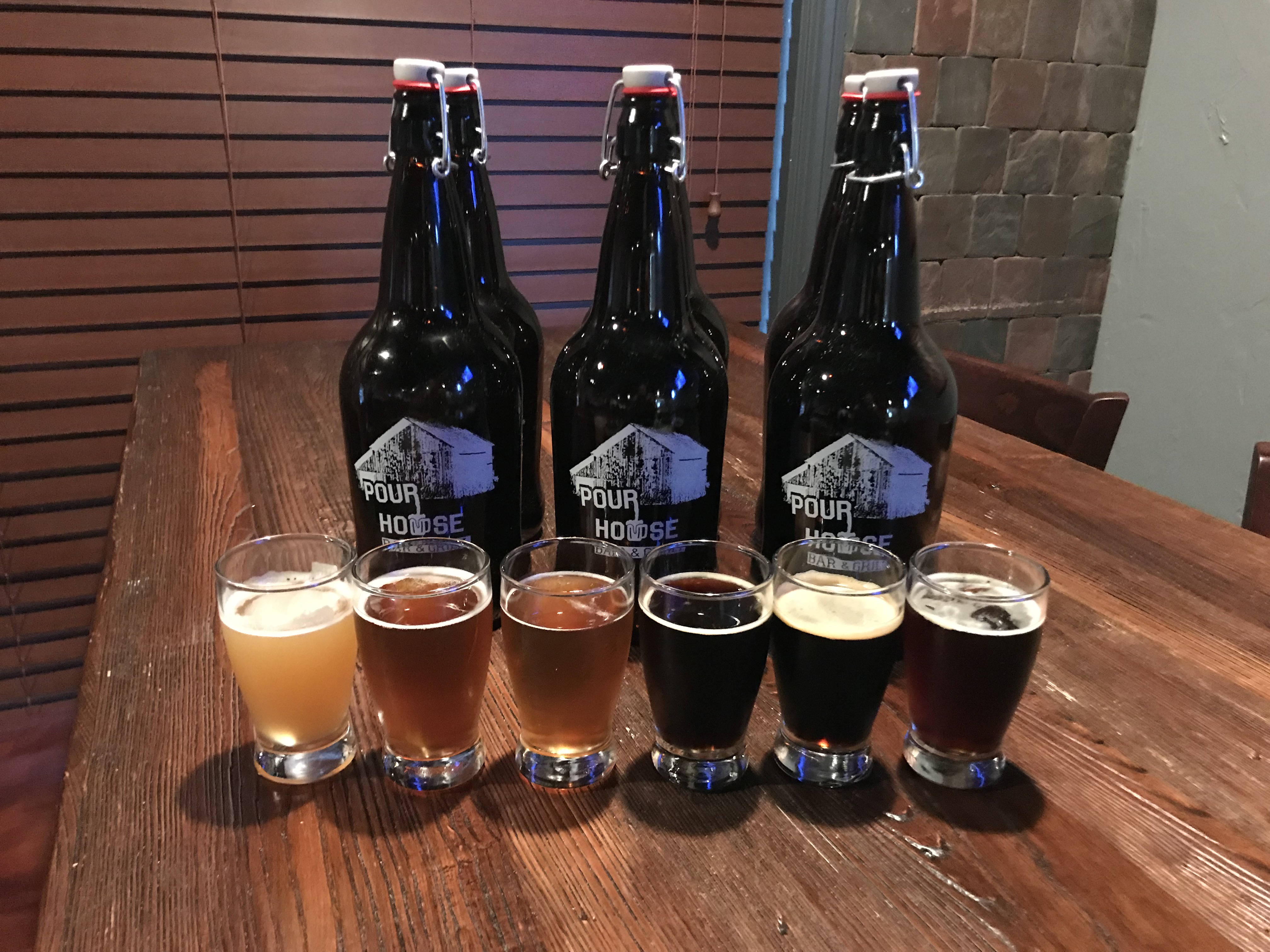 ---
If You Go...
Location: Pour House Bar & Grill
Address: 3620 Starr Center Drive, Canfield
Website: www.pourhousecanfield.com
Hours: Mon. through Sat.; 11a.m. to 1a.m.; Sun.: noon to 11p.m.
Available for Purchase: Flights, pints, growlers, appetizers, wings, burgers and more.
By Jim Cyphert
Mahoning Valley Flight Crew
The number of locations to grab a fall seasonal craft beer in the Mahoning Valley has spilled over the rim. Pour House Bar & Grill remains an excellent option.
Pour House has two locations — Canfield and Poland. Canfield has 30 rotating craft beers on tap; Poland has 45.
Both feature a multitude of fall seasonals. Both offer appetizers, burgers, wings, sandwiches, salads and more.
John and Kristy Berndt own both Pour House locations. John also is owner/executive chef of Johnny's Fine Food & Spirits in Boardman. Kristy manages the Poland Pour House. Craig Deoring, who previously managed Youngstown's Boulevard Tavern, is manager in Canfield.
Keeping quality craft beers on tap is of the utmost priority for both Pour House locations.
"We get ideas for what to carry through careful research, talking to our distributors and listening very closely to our loyal customers," Deoring said.
Most Pour House beer is purchased from Cavalier Distributing, Premium Beverage Supply, R.L. Lipton Distributing and Superior Beverage Group.
Both locations experiment with new beers, but several labels always seem to sell.
"Our best sellers include Bell's, Fat Head's and Founders," Deoring said. "We also do well with Brew Kettle, and everyone knows Sam Adams."
What's the secret to success?
"We strive for quality, consistent products — craft beer and food," Deoring said. "We treat customers right. Our staff is tremendous. They care, are knowledgeable and take pride in their work. It shows."
The biggest challenge is the number of hours required to be successful in the bar and restaurant business. Deoring said it's worth it.
"The best part is the people," he said. "I love making customers happy, and it's great to run into former staff members who have gone on to success. This is a people business."
The Flight Crew gets giddy every time we enter an establishment on a mission. Our visit to the Pour House in Canfield was no different. Deoring and waitress Samantha Santor had everything ready — a table, empty flights and growlers.
Here's our take on the beers we enjoyed most:
Hi Wire Zirkusfest Oktoberfest
(6% ABV, 21 IBU)
Dave Shively
"One of my favorite craft breweries in terms of consistency and quality is Hi Wire of Asheville, N.C. I enjoyed Zirkusfest, an Oktoberfest lager. It reaffirmed my opinion of this brewery. This deep, copper-colored lager has tastes of honey and is brewed in the traditional German style, with an ABV of 6 percent. This fall seasonal was the Gold Medal winner in 2016 at the Great American Beer Festival in the German Marzen-style lager category. Now that the leaves are falling, I encourage you to give this one a try. You won't be disappointed."
Saugatuck Neapolitan Milk Stout on Nitro
(6% ABV, 37 IBU)
Jim Cyphert
"Since I was a kid, I've never steered toward Neapolitan ice cream. I'm a vanilla guy. To my surprise, I loved this creamy stout from Saugatuck Brewing in Douglas, Mich. This one had a touch of chocolate, strawberry and vanilla flavors. It was the Grand National Champion Stout at the United States Beer Tasting Championship a few years ago. Extra creaminess from being served on nitro topped it off for me. Give this one a try, it's perfect as temperatures cool off."
Lord Hobo Boom Sauce India Pale Ale (7.8% ABV, 78 IBU)
Roger Gillespie
"My brew of choice for this encounter was Boom Sauce from Lord Hobo Brewing Co. in Woburn, Mass. Boom Sauce is an American Double/Imperial IPA. Though labeled a New England-style IPA, it has similar characteristics of the West Coast style. It pours a little hazy with a distinctive aroma of pine. Boom Sauce is a very credible, strong IPA that offers a genuine hop slap while bringing a nice ABV of 7.8 percent."
Dogfish Head Punkin Ale
(7.0% ABV, 128 IBU)
Joe Sanfilippo
"When you think of Dogfish Head, the first beers that come to mind may be the 60, 90 or 120 Minute IPAs. But, with fall here, you may want to add another one to your list from this brewery in Milton, Del. The Punkin Ale, which was first brewed in 1995, is a brown ale with a nice blend of pumpkin, brown sugar and some spices. You definitely don't want to miss this one this fall."
Bell's Special Double Cream Stout (6.1% ABV)
Brian Long
"The brew I chose was the Special Double Cream Stout from Bell's in Kalamazoo, Mich. This dark, malty, coffee-like double-cream ale with an ABV of 6.1 percent welcomes cooler weather. This beer drank much smoother than its deep, dark character. Its thick lacing was left behind after every sip. I hate to see summer go but after sampling this beer, bring on the stouts, porters and the fall weather, I guess. Cheers!"
Three Floyds Robert the Bruce Scottish Ale
(6.5% ABV, 24 IBU)
Jason Jugenheimer
"This Scottish ale out of Munster, Ind., may be the closest interpretation to a traditional Scottish ale brewed by an American craft brewery. Named for one of the great Scottish warrior kings featured in the movie "Braveheart," this is the perfect brew to spend an evening with in the Scottish moors or leading an historic revolt for freedom. It's brewed with crystal and roasted malts that provide a subtle sweetness to this dark, ruby-colored ale. Caramel flavors and hints of warm biscuits finish this ale off smoothly. It has a low hop profile that complements the malt without being overly present."
The Flight Crew's counsel: Don't let too many more craft beers flow this fall before making an opportunity to sample the outstanding seasonal offerings at either Pour House location.
More like this from vindy.com