Local winemaker's product hits Walmart shelves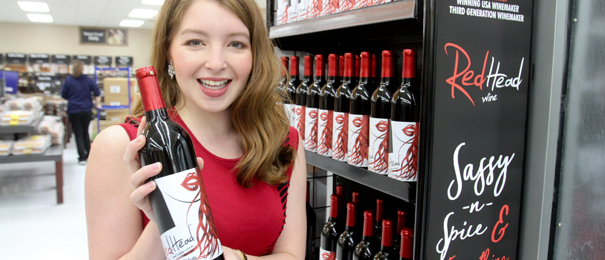 ---
By KALEA HALL
khall@vindy.com
YOUNGSTOWN
Attention shoppers! A local winemaker now has her wine on Walmart shelves.
Marisa Sergi's RedHead Red Blend Wine hit local Walmart stores last week in Boardman, Bazetta, Salem, Liberty, Cortland and Austintown.
"It almost doesn't feel real," Sergi said. "I understand sometimes it takes years to get to where you want to be. I really attribute a lot of my success to my team."
The 24-year-old winemaker from Lowellville went to Walmart's open-call event in June and pitched her product.
The company invited more than 500 companies from 46 states to pitch more than 750 products. Only about 100 received a deal for Walmart stores including RedHead.
Now, RedHead Red Blend is for sale at Walmart for $13.99 a bottle at several Ohio locations and eventually locations in Michigan. Sergi, a redhead, markets the wine herself. A picture of her with her "sassy-n-spice and everything nice" wine is on display at Walmart.
"We are focused on buying great quality products that create jobs in communities across the U.S.," said Scott Markley, Walmart spokesman, in a statement. "It makes sense for our customers, our communities and our company. In the four years since we launched our initiative, we've seen factories opened, jobs created and American products added to our shelves in stores and online, such as RedHead wine."
Sergi is a third-generation winemaker. Her late grandfather, Dominic Sergi, made wine as a hobby. In 2003, her father, Frank Sergi, started L'uva Bella Winery and Bistro in Lowellville to honor Dominic.
Today, RedHead is produced and bottled at L'uva Bella.
Outside of Walmart, RedHead can be found at small shops and chain grocers including Giant Eagle, Kroger and Rulli Bros.
"The moment you become content of where you are at with your goals is where you stop losing momentum," Sergi said. "I am grateful, but I know I need to work harder. I am doing this because it is my passion."
Wine has been Sergi's passion since she was a little girl. She went on to study the science of winemaking and grape growing at Cornell University in Ithaca, N.Y. At Cornell, she developed the idea for a wine that's both sweet and spicy, like a redhead.
"It's very smooth and fruity with a light spice," Sergi said.
After college, Sergi took on growing the business full time.
"Just seeing when she first came out with it, it was a project [and now] ... it's unbelievable," said Bill Santangelo, RedHead vice president of sales.
The success of RedHead thus far, the RedHead team says, comes from a necessary blend of ingredients: a good product, solid marketing and a determined drive.
"It's unbelievable passion for the product and a relentless guerrilla attitude," said John Rossi, who's in charge of business development for RedHead.
More like this from vindy.com