Donations replace popular basketball hoop in Warren community garden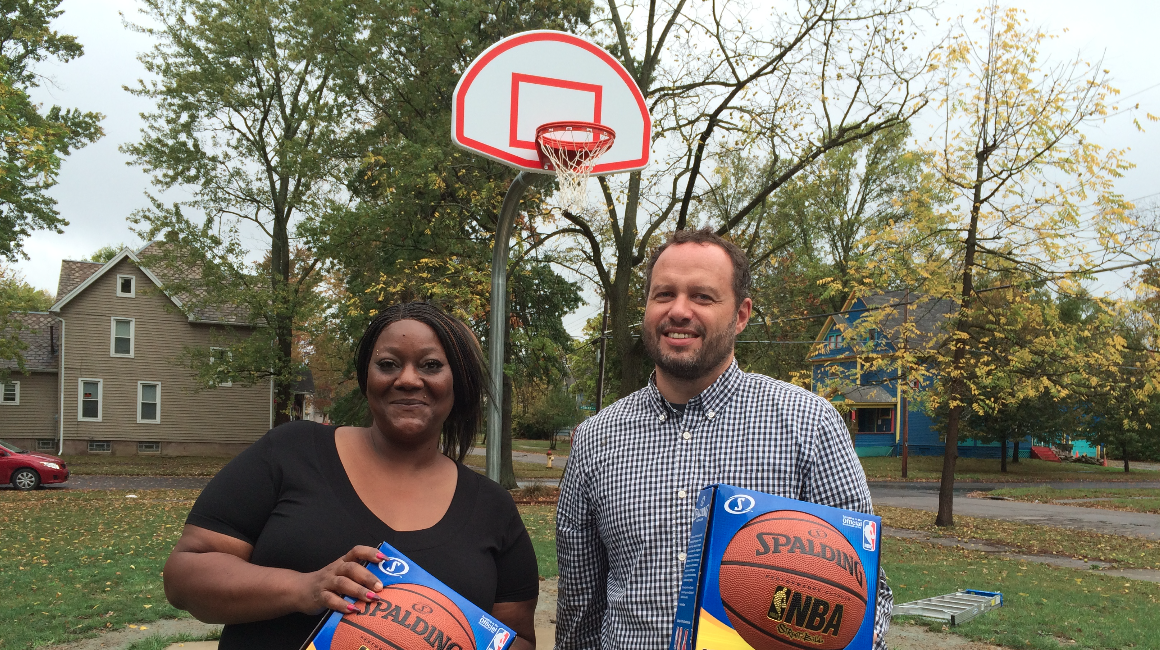 ---
Staff report
WARREN
The efforts of employees of two area companies working with the nonprofit Trumbull Neighborhood Partnership were in evidence Monday in the area just north of downtown known as the Garden District.
Sixteen volunteers from Chemical Bank cleaned up two adjacent properties on Atlantic Street Northeast, and several real-estate agents with Northwood Realty contributed money to replace a broken-down basketball hoop on nearby Belmont Street Northeast.
The Garden District is dotted with small gardens as part of TNP's "Lots to Love" program, which involves creating flower, vegetable and rock gardens and other attractions on former housing sites. TNP also runs the Trumbull County Land Bank demolition program.
The bank volunteers used Columbus Day to clean up the former Atlantic Beverage location at Atlantic Street and Vine Avenue Northeast.
They removed two televisions from the back and weeds and did other cleanup. They also had volunteers mulching, weeding and planting at a community garden just across Vine Avenue.
The basketball hoop is on a cement pad TNP provided in the spring of 2016 at a TNP community on Belmont Street Northeast. The original hoop came down because it wasn't durable enough, said Matt Martin, TNP executive director.
Agents from Northwood Realty Services donated $900 to buy and install a commercial-grade pole and hoop to restore the play space.
"We knew how popular the hoop was, and when we heard it needed an upgrade, agents from this office pooled their money to make it happen," said Steve Ferrebee, manager of the Northwood Howland office.
Connie Jones, who lives across the street from the hoop, said her children are grown, but she keeps an eye on the space and will make the donated basketballs available if children need one.
"It's good for the kids. It keeps them busy," she said of youths from midteens to high school she sees the most, usually right after school.
"I don't think they even change their clothes," she said.
More like this from vindy.com