What's that clicking noise?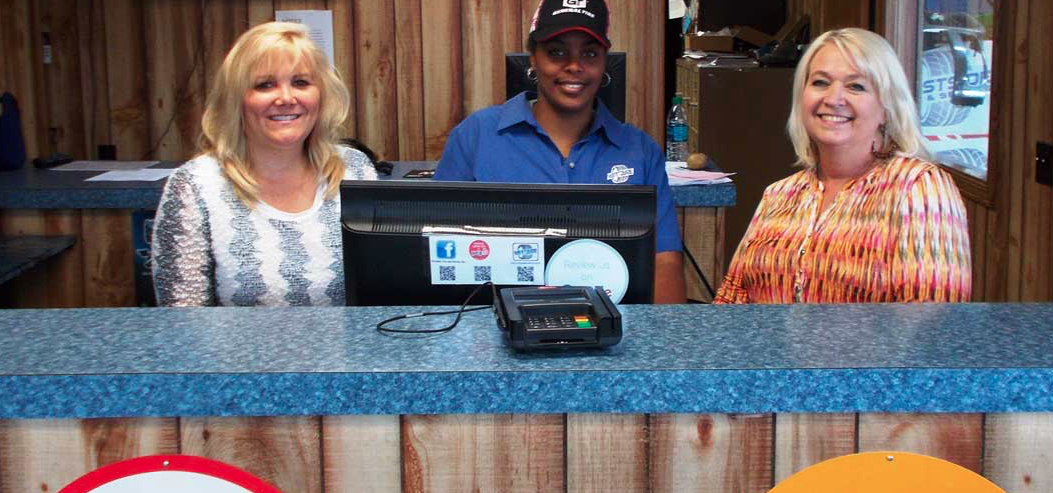 ---
Lisa Walters has seen the routine enough.
"I have had unpleasant experiences as a customer, and I can say it's because I'm a female. I'll ask my brother to make the same phone call [to a business] – and he's treated so different."
Gender treatment differences in the marketplace are so prevalent, and it has a twofold impact, she said. It's a frustrating shopping experience at the time, and the sting lingers.
"Women who've had a bad situation – they are apprehensive about future buys because they don't know if they are getting the truth."
Perhaps one of the most challenging industries, Lisa said, is her own.
Lisa is in the car-repair business.
Yep – a lady in an arena known for guys and grease.
She's partners with her brother, Rich Rogenski, in Westside Tire and Service founded by their dad and his brothers in 1978.
One of its three locations, the Niles store, will host a special event Wednesday night that attacks the stress and stigma outlined above.
"Ladies Car Care Clinic" is a ladies-only social at the store.
Well, it's a social on a mission: to get ladies comfortable with their cars.
This event was one of 500 or so news items to pass through my email last week. But amid announcements such as "Octoberfest on Saturday" and "Pierogi orders by Monday," I hope you'd agree that seeing "What's that clicking noise?" earned a special chuckle.
After writing about ladies and beer last week, I felt encountering this event was divine influence. I had to call.
Westside has done a few of these clinics over the years. They grew from Lisa's interest several years ago in being part of the solution for the problem in her industry. It was also recognition of a reality of today's marketplace.
"Back when I started working for my dad, there weren't many women who came in as customers. The man typically took care of car care back then. Now – half our customers are female – if not more," she said.
At a conference, she was introduced to the AskPatty program – which seeks to create an accepting culture in the auto-repair industry knowing that women customers are different. Check it out at AskPatty.com. The website is a host of automotive help for women and made by women – blogs, videos, referrals. But it's not just for women.
Per the site: "AskPatty.com Inc. takes a two-pronged approach to revolutionizing the women's automotive retail market: For consumers, the AskPatty.com website, is a safe and reliable source for expert automotive advice and research.
"For auto dealers, tire dealers, collision centers, auto service and repair centers, the revolutionary AskPatty.com Certified Female Friendly Æ program, designed from the ground up, trains and certifies automotive retail and service centers on how to attract, sell, retain and increase loyalty with women customers."
In the Valley, the site lists Westside as a certified site. It lists Flynn Tire in Mercer, Pa., Rick's Service in Cortland and Mel Grata Chevrolet as participants.
Lisa said the program had a tremendous impact on the men in her shop.
"The things I take for granted about being a female and are just common sense to me, it was new to the men."
She illustrated a scenario that brought her front counter to life over the phone.
"Men just get to the point with what needs to be done. When a woman is telling a car problem, she will often tell a long story that typically begins when she got into the car that day."
The training for the men in their shop, she said, was to recognize that a car's problem will be delivered in a different way with a female customer, and they will need to employ a bit more patience.
"There are maybe some husbands who want to be 'Ask Patty' certified," she said, laughing.
So Wednesday is social and educational – food mixes with gauges. About 20 women took part the last time they did this.
I like, too, a guide they hand out of all the abbreviations and acronyms that might show up on your estimate or bill.
So, AC and ABS I knew. And HVAC and PSI.
I did not know TPMS was tire-pressure monitoring system, or that LOF meant lube, oil and filter. FEA is a front-end alignment. There are about 30 others listed.
For a auto-repair worker, the customer satisfaction reaction is no doubt different.
Satisfy a guy, and it's a simple shrug or a "Cool. Thanks."
But please a lady?
"My brother Rich showed them cabin air filters – one clean and one not," she said of an event two years ago. "The 'oohs' and 'aahs' that came from the ladies were priceless."
We're different no doubt – men and women.
You expect to learn it over forums and dissertations.
But it seems so much more impactful over mufflers and tires.
Todd Franko is editor of The Vindicator. He likes emails about stories and our newspaper. E-mail him at tfranko@vindy.com. He blogs, too, on Vindy.com. Tweet him, too, at @tfranko.
More like this from vindy.com