Society offers variety of events in October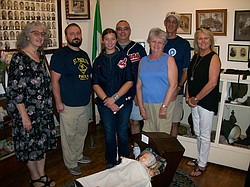 CONTRIBUTED PHOTO

Photo
Museum Day Live! is an annual celebration hosted by Smithsonian magazine. Participating museums and cultural institutions across the country provide entry to anyone presenting a Museum Day Live! ticket, which can be downloaded from the Smithsonian website. Above, Museum Day visitors at the Salem Historical Society, from left, are Ginger Grilli, docent; Anthony Macaldo, Amber Dougherty, Ed Dougherty and Becky Craig, all visitors; and Kim Goll, docent.
Staff report
SALEM
The Salem Historical Society Museum is offering several activities during October. The public is invited to the society's meeting at 7 p.m. Tuesday in the Dale Shaffer Library meeting room, 239 S. Lundy Ave. Sherry Groom, director of the Troll Museum in Alliance, will give a presentation on the collection in the museum which is the world-record holder for the largest collection of troll dolls as certified by the Guinness World Records.
The public is also invited to the Columbiana County Genealogical Society meeting at 7 p.m. Wednesday at the Dale Shaffer Library.
The Society will participate in Salem's Quakerfest activities from 10 a.m. to 4 p.m. Saturday including pony rides, a petting zoo, train and other exhibits and concessions. At 7 p.m., the museum will host the Dulci More concert, featuring Magpie at the Museum. Admission is $10.
Tours and Exhibits
The Historical Society is open from 1 to 4 p.m. each Sunday through Oct. 29. This year, evening hours from 6 to 9 p.m. were added on the third Tuesday of the month. Guided tours of all the exhibits are available during these times. Members are admitted free. Admission for adults 18 and older is $6, and children age 5 to 17 are $3. Children under 5 are admitted free.
The last tour begins a half-hour before closing. Guests are encouraged to come early and plan to stay at least 90 minutes. The entrance and parking for museum tours is at 208 S. Broadway Ave. For more information, contact the Society at 330-337-8514.
This year's feature exhibit focuses on local church and religious life through "Sunday Go to Meeting." The exhibit is available on Sundays and the evening of Oct. 17.
The museum's Underground Railroad Trolley Tour will run today, Saturday and Oct. 29. Call 330-337-6733 or email trolley239@aol.com to make reservations.
The Ghost Walking Tour is offered at 8 p.m. Friday and Oct. 20. On Oct. 27, the society will host a Ghost Dinner at 6 p.m. with the tour to follow. Call 330-337-6733 to make reservations for the dinner and the tour.
A Ghost Trolley Tour will be offeredSaturday, Oct. 21 and 28 at 6, 8 and 10 p.m. Call 330-337-6733 for reservations.
The Museum and Gift/Book Shop is open from 9 a.m. to noon Mondays, Wednesdays and Thursdays.
More like this from vindy.com